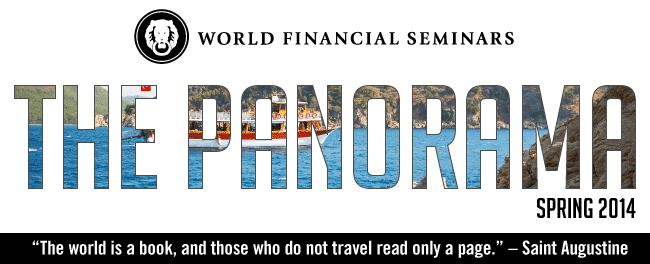 HELLO!
We're delighted to welcome you to World Financial Seminars' first ever issue of The Panorama – our new quarterly newsletter designed to reflect on our most recent trips… announce exciting upcoming events… spotlight our loyal travelers… and more.
As you may know, we recognize that wealth is not simply defined by your financial statements.
Rather, it's about living life to the fullest.
We designed our World Financial Seminars program with this in mind.
You see, in every group of men and women, there are those who strive to reach a little higher – and achieve a little more…
They understand money creates wealth, but so does character, conscience, attitude and wisdom. It's only by incorporating these elements into your day-to-day existence that you can experience what the ancients called "the good life"…
They have the desire to experience wealth beyond the borders of bank accounts and financial statements… a hunger for discovering and exploring different cities and historical landmarks… and enjoy traveling with like-minded people…
For you, we organize several conferences and tours every year. Each is carefully planned to connect you with the latest financial research and insights that will make achieving both your personal and financial goals possible.
And – aside from gaining premier access to some of the most accomplished, successful and sought-after wealth experts in the world – these events open doors for you to unique experiences in some of the world's most hidden historical and geographical treasures that you couldn't open on your own.
We hope you'll enjoy seeing where we've been – and where we're going next – in this first issue of The Panorama.
Sincerely,
Heather, Steven and Sarah
---
THE CHAIRMAN'S CIRCLE
WEALTH CRUISE – AFTERWORD
This past February 16-28, The Oxford Club hosted a very special Chairman's Circle Wealth Cruise aboard the Crystal Symphony.
Our adventure began in Sydney, Australia, and ended in Bali, Indonesia…
And I must say, it was hands down one of our best trips yet.
As we sailed the South Pacific Ocean, we experienced:
The cosmopolitan energy of Sydney – set on one of the world's most stunning harbors and easily one of the most pleasant cities we've ever visited…
The breathtaking beauty of the Great Barrier Reef – the largest structure on earth built by living organisms and full of brilliant corals and wonderful sea creatures…
And the serene tranquility of Bali – full of mysterious volcanic lakes, jungle-shrouded volcanoes, wondrous ancient temples, fabulously creative painters and wood carvers, and the legendary dancers who re-enact the stories of their Hindu deities…
Plus, in true Oxford Club form, we dove deep into the global markets – with some of the world's top investment experts – in search of the most profitable plays for your portfolios…
For example, Chief Income Strategist Marc Lichtenfeld shared with the audience how they could collect 20% yields on conservative stocks…
Emerging Trends Strategist Matthew Carr unveiled the best small cap stocks for 2014…
And Wall Street Daily's Director of Options Karim Rahemtulla revealed to attendees three ways they could play the resurgence of natural gas…
Those who joined us also raved about the opportunities they had to:
Explore exciting ports of call filled with scenic beauty, wondrous wildlife and ancient cultures…
Enjoy stimulating conversations with other savvy investors and financial gurus…
Share in the spirit of adventure, the passion for discovery and the joy of new friendships…
Relax in style and luxury aboard the world's finest cruise line…
Escape winter's chill and bask in the warm South Pacific sunshine…
The list goes on…
But we believe Bond Strategist Steve McDonald summed it up best for us in his cruise wrapup where he writes, "A cruise on the Crystal Symphony means nonstop food and drink – all included – every kind of entertainment imaginable, daily guided excursions, organized receptions and fine dining every night."
I truly hope you'll join us on our next expedition on the Crystal Symphony when we sail from Panama to Colombia, Aruba and more – coming March 15-25, 2016.
Stay tuned for more details…
---
16TH ANNUAL INVESTMENT U CONFERENCE 2014 – AFTERWORD
We have just returned back to Baltimore from an amazing week in Carlsbad, California – the setting of our 16th Annual Investment U Conference.
Every year, this conference gets better and better.
And this year was no exception.
If you joined us, you know what I mean…
After all, you had the chance to:
Hear Chief Investment Strategist Alexander Green reveal the six factors that he says will determine your portfolio's future – plus the two trading systems that actually work…
Discover the six best private equity stock recommendations from guest speaker Dr. Mark Skousen – including one that is paying out very largedividends, one that is heavily involved in mergers and acquisitions, and one that has an act for investing in business development companies…
Listen in as guest speaker Byron King unveiled eight great ideas in energy, mining, materials and tech – featuring one great basic resource play, one fabulous new South African developer and one utterly transformational optical chip play…
Learn about the three most disruptive technologies of 2014 according to Wall Street Daily's Co-founder and Chief Investment Strategist Louis Basenese…
Rub elbows with some of the world's top analysts, researchers and investment editors at our one-of-a-kind Welcome Reception…
And so much more!
If you weren't able to make it this year, don't worry…
Because you can still get access to all of the great insights and recommendations that were shared…
We are currently putting together a Master Plan for 2014. It will give you direct access to all of our experts' presentations – including their most profitable ideas and recommendations for this year.
Make sure to check your email in the coming weeks for more information…
---
THE OXFORD CLUB'S FINANCIAL DISCOVERY TOUR – GREECE AND TURKEY – REGISTER NOW!
Are you free this July 11-20?
If so, we would like to invite you to join us for The Oxford Club's first-class Financial Discovery Tour to Greece and Turkey.
This tour will undoubtedly be the highlight of your year.
How can I be so certain?
Because every detail truly has been attended to and every preparation has been made to ensure that your experience with us is the most remarkable and memorable it can possibly be.
With the help of Oxford Club friend and European travel and lifestyle expert Fritz Satran, we're able to offer you a true velvet rope feel… giving you exclusive access to various events and places you couldn't go on your own…
We've arranged for you to enjoy a private cocktail party on the magical rooftop of the five-star Grande Bretagne Hotel in Athens…
Travel to the seaside resort of Vouliagmeni – nestled below the slopes of Mount Hymettus and home to the ruins of the Temple of Apollo Zoster – to dine alfresco at the award-winning restaurant of the Astir Palace… 
Delight in an Oxford Club Members-only private reception with a local historian at the newly renovated Acropolis Museum…
Participate in an authentic "Zorba" dinner at the gorgeous seaside Taverna at the lively new Sirene Blue Resort…
Plus much more.
Of course, along the way your hosts, The Oxford Club's Executive Director Julia Guth and Chief Investment Strategist Alexander Green, as well as President of Asset Strategies International Inc. Michael Checkan, will help you discover the many financial secrets hidden in these countries.
And they've brought in several other experts to help them…
That includes Dr. Prinzessin zu Sayn-Wittgenstein, senior director and head of Sotheby's Hamburg… Diane Ahl, Rothkopf professor of art history… Kenneth Ahl, partner at Archer & Greiner P.C… Daniel H. Weiss, president of Haverford College… and Fethi Pekin, managing partner of Pekin & Pekin.
Due to the exclusive nature of this event, we can only take a few more Members with us.
We hope you'll be one of them!
For more information, simply click here. Or to reserve your spot, contact Karoline Bowman today at 410.366.5494 or toll-free at 800.638.7640 ext. 113. You can also email her at Karoline@aesu.com.
---
THE OXFORD CLUB'S PRIVATE WEALTH SEMINAR – QUEBEC – SOLD OUT!
When we found out that our Private Wealth Seminar this July 21-22 at the Fairmont Le Chȃteau Frontenac in Quebec, Canada, SOLD OUT in only three weeks… we were practically jumping up and down with excitement…
That's a new record!
Maybe it was the wonderful location – nestled in the heart of Quebec, full of magnificent churches, cobbled streets, fragrant gardens and chic boutiques…
Possibly it was the fabulous venue – the award-winning Fairmont Le Chȃteau Frontenac…
Or perhaps it was the ever-so-relevant theme – how does an investor get ahead in a bipolar world?
Of course, it could have been all three!
But one thing's certain: Those who were able to secure one of the only 75 available spaces are counting down the days…
And so are we.
While it may be too late to register for our Private Wealth Seminar in Quebec, Canada, – we do have some good news…
Registration is now open for our Private Wealth Seminar in Sea Island, Georgia, – featuring just as lovely of a location… just as exquisite of a venue… and just as significant of a theme…
Take a look below, for more information…
---
THE OXFORD CLUB'S PRIVATE WEALTH SEMINAR – SEA ISLAND, GEORGIA –
REGISTER NOW!
The time has finally come!
We are now accepting registrations for our highly anticipated Private Wealth Seminar this September 17-18 at the luxurious Cloister at Sea Island Resort in Sea Island, Georgia.
We designed this program just for you – with three specific goals in mind…
First, we want to open your eyes to a new world of wealth-building and wealth-protection opportunities arising from our current economic situation.
I'm sure you've seen Chief Investment Strategist Alexander Green talking about our "bipolar world" lately…
There's simply no denying the growing imbalance between the failing public sector and the thriving private sector.
However, the silver lining is that this disparity is creating HUGE opportunities for investors like you.
And, at this event, you'll have the chance to discover those opportunities from some of the most accomplished, successful and sought-after wealth experts in the world.
Second, we wish to enhance this experience by connecting it with first-rate accommodations, breathtaking surroundings and unbeatable service. That's exactly why we've chosen to host this event at The Cloister at Sea Island…
It is the most picture-perfectresort we've ever seen.
And last, but not least, we want to help you take advantage of what we believe is one of the most important benefits of the Club…
The opportunity to forge and build lifelong friendships with like-minded Club Members who share common worldviews and investment philosophies.
We truly couldn't have dreamt up a more idyllic place for us to achieve each of these goals…
For more information on how you can attend – and claim a special early bird discount – simply click here now.
MEMBER SPOTLIGHT
Here at World Financial Seminars, we truly value the loyalty you have shown our programs. That's why we've decided to turn the spotlight on you! In every issue of The Panorama we will showcase one of our most dedicated Members, their experiences and how they have benefited from our events.
In this section, you will find a wonderful interview from Event Director Steven King with one of our many fantastic Members, Ms. Gifty-Annette Dubois.
Gifty-Annette Dubois
Oxford Club Member Since April 1995
Chairman's Circle Member Since May 2012
"There's Always Something New to Explore…"
Nearly two decades ago, in April of 1995, Gifty joined The Oxford Club. She was simply in search of a credible financial club that would help her identify the best stocks and bonds to buy. At that time, she never could have imagined all of the doors the Club – and our World Financial Seminars – would help her open in the years ahead…
Steven King: Do you remember your first trip that you took with The Oxford Club?
Gifty: How can I forget? It was just marvelous. I think that's the only word I can use to describe it. I went to Italy with The Oxford Club. We went to places that no tourist could even get into. We had private receptions in palaces. We had a recital at San Marco Cathedral and amazing dinners in Florence. And the fellowship, it was so fantastic! I am a single woman, but I never felt left out. Everybody interacted. Everybody was very nice and it was such an enjoyable trip. Then there was the Zurich trip, as well as the Crystal Cruise – they were all fantastic.
Steven: What are your fondest memories of traveling with The Oxford Club editors? 
Gifty: Well, I personally have enjoyed all the staff of The Oxford Club. They are very easy to talk to and they make you feel you are family.
Steven: You recently shared some information with me about your work in South Africa. Can you tell us more about that? 
Gifty: Well I am a registered nurse from Britain. I trained in England. In 1984, I relocated to California and I have been here since. But I have been exposed to ministry because my late grandfather was a Presbyterian minister and educator. So, since my growing-up years, I've been very mission-focused, donating my pocket money as a teenager to the missions. So when I came to California, I joined my church and, after working the hospital for nine years, I opened my own home health agency and also rehab therapy. And even though I am a for-profit corporation, I gave a lot of money to missions. I also use some of my vacation time just to go on missions overseas.
In 2009 I went with Windows International Network to the Sahara Desert to look after the 187,000 refugees. There, charitable organizations – especially Giving Children Hope and MAP International – were donating lots of medications and supplies for me to help people in need around the world. But once I was in Sub-Saharan Africa, the Lord put it on my heart to concentrate on those nations.
So, I went to Ghana and presented a vision to the mayor of Accra and also the kings of greater Accra, and they bought into the vision and donated 400 acres of prime land to build a hospital. It's going to be a 200-bed children's hospital and 300-bed adult hospital to serve the whole Sub-Saharan Africa nations. The healthcare system there is so inadequate.
In front of my own eyes I saw 20 people dying, and it's so difficult to see that and not to do anything about it. That's why I became so passionate to do something for these people.
Steven: That's an amazing story. Aside from your charity work, what is your favorite part of traveling?
Gifty: My favorite part of traveling is getting off the airplane and hitting the hotel and then getting to know people and then starting to make acquaintances and going and seeing the wonderful sights. Every country I go to, I learn a new thing, even though I have traveled around the world before I came to the U.S., I still learn new things. Even places that I have been before, there's always something new to explore.
Steven: Outside of traveling, what has your experience with The Oxford Club been like?
Gifty: It has been very good. Anytime I call, there's somebody there to respond. I've never had any problems with the Club, and that's why I chose to become a Member of The Chairman's Circle when I got the invitation to join.
Steven: Is there anything else you would like to share with us today regarding yourself, your passions or your connection to The Oxford Club?
Gifty: Yes. I would love to especially encourage the single people of the Club to join in this Oxford Club travel because you're going to meet new people and you're going to learn a lot.
WORLD FINANCIAL SEMINARS IN PICTURES
The Chairman's Circle Wealth Cruise – Australia, Bali and Indonesia
Investment U Conference – Carlsbad, California