The Oxford Club's Financial Discovery Tour
Dear Member,
I just returned from The Oxford Club's nine-day Financial Discovery Tour of France and Monaco and wanted to share a few highlights with you.
I joined the group Saturday at the beautiful Hotel International in Paris. There we exchanged greetings and headed out for the evening. Our guide, the estimable Fritz Satran – whose Oxford Club tours have become legendary – arranged for a welcome cocktail reception at the Museé du Parfum, the former private home of opera star Maria Callas.
After an hour of champagne and camaraderie, we departed for Montmartre, a historic district in the northern section of the city. We wound through crowded streets, enjoyed the local Saturday night fanfare, and then took the funicular up to a quaint French restaurant, Au Clair de la Lune.
Fritz didn't just obtain a room or large section of the restaurant. He reserved the whole thing. That allowed us to eat, drink and carry on for several hours without drawing the ire of anyone expecting a quiet evening out.
The following day we held the first of two financial sessions. I kicked things off with a survey of the investment landscape in the U.S., arguing that things aren't nearly as pessimistic as many believe. I pointed to low inflation, zero interest rates, an improving economy, the strong dollar, rebounding home prices, cheap energy and near-record corporate profits.
Robert Vrijhof, President of Weber Hartmann Vrijhof & Partners, made the case for investing in Switzerland and the Swiss franc. And Thomas Fischer, Lead Consultant to ENR Asset Management, laid out the pros and cons of diversifying assets offshore.
On Monday, we split into small groups and took a private tour of "The Masterworks of the Louvre," hitting highlights from Venus de Milo to the Mona Lisa. We then took our private coach to a yacht that cruised up the Seine – passing familiar sights like Notre Dame Cathedral and the Eiffel Tower – while we sipped champagne and enjoyed hors d'oeuvres.
We returned to the Tower later that evening for a special seven-course dinner in the exclusive Le Jules Verne, an exclusive Michelin three-star restaurant. (Reservations were made eight months in advance.) Our selections included everything from chicken and duck foie gras pâté to seared medallion of veal (with fennel and olives from Nyons) to pan-seared black figs. We also had a surprise visit from Agora Publishing President and Founder Bill Bonner and his wife Elizabeth.
On Tuesday we left Paris to begin our tour of the Burgundy wine region, stopping along the way to visit Vézelay, a beautiful hill town that is home to the 11th-century Romanesque Basilica of St. Magdalene, a UNESCO World Heritage Site. We split into smaller groups for a private tour, and then enjoyed lunch at the superb Le Cheval Blanc Restaurant, sampling some of the pinot noir and chardonnay that made Burgundy famous.
On our way to Beaune for the night, we also toured L'Abbaye de Fontenay, the oldest Cistercian abbey in the world, founded in 1118 by Saint Bernard of Clairvaux – another World Heritage Site. Nestled in a lush valley and fed by a mountain stream, it is a quiet place of great beauty and tranquility.
The last few days of our trip were spent in Cannes. We spent a picture-perfect day touring nearby Monte Carlo, and celebrated the end of our trip with a private banquet – accompanied by a string quartet – in an eight-centuries-old seaside castle, the Château de la Napoule, near Cannes.
During our stay here, we held our second financial session, where I discussed The Oxford Club's strategy for a late-stage bull market.
I emphasized that this is a time to favor large cap stocks over small caps, value over growth, noncyclical companies (like food, pharmaceuticals, healthcare and medical devices) over cyclical companies (like manufacturing, retailing and finance) and dividend-payers over nondividend-payers. I also emphasized that international stocks are far cheaper at the moment than U.S. companies.
A particular highlight for me was a 30-minute talk given by our tour guide, the estimable Fritz Satran, on "The Art of Living Well."
In addition to being a successful businessman – he is the owner of AESU Travel – Fritz is a true bon vivant. His positive demeanor and dry sense of humor kept our group in high spirits the entire trip.
In his talk, Fritz discussed his view of "La Belle Vie." He reminded us that it is only when we stop clinging to "things" that we are truly free. He conceded that we may not always win in life, but winning isn't everything. And he told us that it is not what we have, but what we enjoy that constitutes our abundance.
Fritz believes the purpose of education is to attune the mind and senses to the great pleasures of life. It is about taking the time to reflect and fully live and appreciate the years we have left.
That was one of the primary reasons for our Financial Discovery Tour. And I can speak for the whole group when I say that goal was achieved.
Sincerely,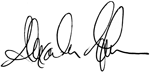 Alexander Green
Chief Investment Strategist
The Oxford Club