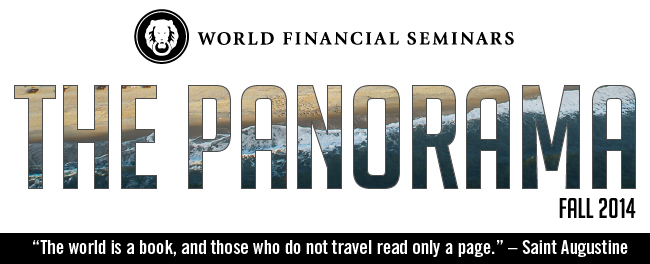 Dear Oxford Club Member,
For many, the change of seasons is often accompanied by a desire for a change of scenery. Each one of our events is designed to provide you with the opportunity to fulfill this desire in a "bucket list" setting. Our goal at World Financial Seminars is to help you travel the right way, with the right people.
In this issue, you'll find the details on many of our upcoming conferences and seminars. That includes our 17th Annual Investment U Conference in charming St. Petersburg, Florida… our Summer Private Wealth Seminar in breathtaking Beaver Creek, Colorado… and our Fall Private Wealth Seminar in stunning Southampton, Bermuda.

On top of that, we'll also provide you with a wrap-up of our 2014 Private Wealth Seminars, featuring an exclusive sneak peek video of live footage from our Seminar in Quebec. If you've never had the chance to attend one of our events, this will give you a good idea of what you've been missing!
We hope you'll enjoy this newest issue of The Panorama and we look forward to seeing you soon at one of our events!
Sincerely,
Heather, Steven and Sarah
---
The Oxford Club's 2014 Private Wealth Seminars
Quebec, Canada | Sea Island, Georgia
Afterword…
Two weeks ago we concluded our Fall Private Wealth Seminar at the Member-favorite Cloister at Sea Island Resort in Sea Island, Georgia.
Those who attended this Fall Seminar – and those who attended our Summer Seminar in Quebec, Canada – had the chance to meet with our team of investment experts as well as discover their latest investment recommendations and market strategies.
Here's a glimpse at what was unveiled:
Chief Investment Strategist Alexander Green shared his beliefs on why you need a complete investment system and gave attendees the details on two of his short-term trading systems that actually work…
Chief Income Strategist Marc Lichtenfeld outlined the specifics of his dividend-generating strategy, gave tips on how to never pay taxes and revealed his latest recommendations for scoring in the healthcare sector…
Emerging Trends Strategist Matthew Carr provided the audience with an inside look at his detailed strategy that helps to not only identify the "next big thing" but also shows how to profit from it…
Resource Strategist Sean Brodrick proved to attendees that "it's worse than we know" when it comes to how the government is spying on you, gave his advice on how to stop them and offered three stocks that will help you profit from cyberwar…
Bond Strategist Steve McDonald detailed how attendees could collect 10% from private sector bonds…
And much more.
As always, in addition to hearing the latest from our experts, Members had the opportunity to mingle and build friendships with likeminded Members.
As David Easley and Elke Crandall tell us in this issue's Member Spotlight, "There's always such a nice variety of people [and] you end up building such strong friendships over time."
Thank you to all of those who joined us for these two events. We loved getting to meet you and hear your stories about what the Club has done for you!
The Oxford Voyager Club's
Inaugural Beyond Wealth Retreat
Kailua-Kona, Hawaii | February 7-10, 2015
Sold Out!
This past May we had the great pleasure of welcoming World Financial Seminars' most loyal travelers into the Oxford Voyager Club – our newest and most exclusive travel privilege for Oxford Club Members.
This program is the first of its kind, where membership cannot be purchased and is specifically designed to recognize and reward those who have traveled with us in the past.
An Oxford Voyager Club Member is someone who has experienced firsthand the high standards we hold ourselves to when creating each event. And someone who understands that traveling with The Oxford Club's World Financial Seminars team means you can expect the very best.
Everything we do is aimed to evoke a sense of astonishment and wonder, from the authentic experiences you enjoy at each destination to the carefully planned financial seminars along the way.
Of course, that includes our now sold out Inaugural Beyond Wealth Retreat.
If you're among the lucky Members who reserved one of our 25 rooms, congratulations! We cannot wait to see you February 7-10, 2015, at the breathtaking Four Seasons Resort Hualālai at Historic Ka'ūpÅ«lehu in Kailua-Kona, Hawaii.
If not, don't worry…
We are currently building a waitlist for this one-of-a-kind Retreat, where you'll have the chance to indulge all of your senses as you discover a world full of things you can do to make your life more gratifying… fulfill your passion for freedom… and even increase your potential for profits.
It's our hope that this Retreat will provide you with both an unforgettable experience and the tools you need to achieve true financial freedom.
To be added to our waitlist, please contact your Oxford Voyager Club Concierge Page Carpenter today by phone at 443.708.9411 or 844.294.4696, or by email at voyagerclub@oxfordclub.com.
*The World Financial Seminars team has already begun searching for our next Beyond Wealth Retreat destination. Stay tuned for more details in a future issue of The Panorama…
---
The Oxford Club's 17th Annual
Investment U Conference
St. Petersburg, Florida | March 11-14, 2015
Register Now…
You're invited to join us in St. Petersburg, Florida, from
March 11-14, 2015, for our 17th Annual Investment U Conference!
Just last week, we released the official invitation for our biggest annual event, where we will gather over two dozen renowned investment experts to share their insights on the future of America's financial well-being.
Is America on the verge of a new "Golden Age"?
That's what we will discuss and debate along with the opportunities that could result.
I know it may seem hard to believe… especially when the news is constantly bombarding you with stories of war, disease, natural disasters and more. But according to many of our experts, this dour perspective is a gross distortion of the world we live in today.
There are, in fact, significant, unrecognized developments that could be putting America firmly on the path to a new Golden Age of innovation, economic growth and prosperity. From burgeoning disruptive technologies… to promising new oil and energy ventures… to the evolving Internet of Things… and everything in-between – this is your chance to discover for yourself the best places to profit in 2015.
On top of that, we'll also celebrate The Oxford Club's 25th Anniversary with several exciting, commemorative social events and our newest additional workshops, designed to help young investors start on the path to achieving financial freedom.
You can find all of the details here in your official invitation.
And when you're ready to reserve your space, simply contact our friends at Opportunity Travel. You can reach them by phone at 800.926.6575 or 561.243.6276, ext. 104, 105 or 106, Or by email at info@opportunity-travel.com.
The Oxford Club's 2015 Private Wealth Seminars
Beaver Creek, Colorado | Southampton, Bermuda
Coming Soon!
Welcome to the 2015 Private Wealth Seminar lineup!
Every year, your World Financial Seminars Executive Director Heather Phillips and Event Director Steven King scour the globe in search of the very best destinations to host our cherished Private Wealth Seminars.
And they couldn't be more excited to announce the two standouts they've selected for 2015.
First up is the breathtaking Park Hyatt Beaver Creek Resort and Spa, set in the picturesque mountains of Beaver Creek, Colorado.
It's not every day, or everywhere, that you find the uncommon that awaits you here. From July 20-21, 2015, you'll have the chance to fall in love with this supreme resort, "a place where rare and unexpected pleasures are woven seamlessly into the fabric of each day."
Featuring the closest gondola access of any hotel in the U.S., you'll find yourself mere steps away from the majesty and tranquility of the Rocky Mountains and so much more.
It's undoubtedly the ideal venue for our Summer Private Wealth Seminar.
Of course, for our Fall Private Wealth Seminar, we've chosen somewhere equally idyllic: the luxurious The Fairmont Southampton in stunning Southampton, Bermuda.
Perched on Bermuda's stunning south shore with miles of pink sand beaches, this resort is where you want to be September 17-18, 2015.
Here, you'll have the opportunity to enjoy unparalleled amenities throughout the entire property. Relax at the resort pool, pull up a chaise lounge at the sprawling oceanfront beach club, unwind in the Willow Stream Spa or tee off at the championship Turtle Hill Golf Club.
Regardless of the location you choose, rest assured that we will do everything we can to ensure that you enjoy every moment with us…
These are our most intimate financial seminars which guarantee that you leave with a full understanding of every timely strategy and recommendation that is given. They are where you will discover exactly how to make each of our experts' time-tested and latest ideas work for you over and over again.
We'll have more details on each of these events in the coming months…
In the meantime, we are building our interest list. If you'd like to be added to the list, or if you have any questions about this event, please email us at Conferences@OxfordClub.com. Should you need to speak with someone directly, you may call 888.900.9283 or 443.353.4542 (M-F, 8 a.m. to 8 p.m.).
Member Spotlight
Here at World Financial Seminars, we truly value the loyalty you have shown our programs. That's why we've decided to turn the spotlight on you! In every issue of The Panorama we will showcase one or more of our most dedicated Members, their experiences and how they have benefited from our events.
In this section, you will find a wonderful interview from Event Director Steven King with two of our wonderful Members, Dr. David Easley and Ms. Elke Crandall.
Chairman's Circle Members Since 2011
"You know what to expect, you walk in and you feel right at home. These are things on our bucket list."
At our Private Wealth Seminar in Sea Island, Georgia, this past September, the World Financial Seminars team had the pleasure of sitting down at lunch with David and Elke. It was such a wonderful opportunity to talk to the couple face to face and hear firsthand how our programs and The Oxford Club have impacted their lives. Here's what they had to say…
Steven King: Do you remember the first trip you took with The Oxford Club?
David Easley: I do. Our first trip was in 2011 at the Fairmont Olympic Hotel in downtown Seattle. After that we decided to go on our first cruise, which was The Chairman's Circle Tour of the Baltics aboard the Crystal Symphony. That's been our favorite so far.
Elke Crandall: I agree. I really enjoyed that trip. It was so unique, and although all the cruises are great, it's hard to go wrong with the Crystal. We also did the Australian Sydney to Bali cruise, which was wonderful. It was such a different country and had such a different dynamic.
Steven: I agree. Plus, there are the komodo dragons…
David: Yeah. What was ironic about that island was that Elke was there, and she was crawling up next to these dragons to take pictures – about five of them. And it's ironic because there were actually more dragons on the island than people, and it's a huge island.
Steven: That's definitely something you'll never forget. So, can you tell us more about your fondest memories of traveling with The Oxford Club Editors?
Elke: Oh, yes. It feels like you're traveling with family – intelligent family, that is – that guide you and make sure you're having fun at the same time. It's never dry and there's always such a nice variety of people. You end up building such strong friendships over time.
David: This is something that I've seen happen more and more as we do more things with The Oxford Club. The more cruises and tours we do, the more friends we make for life.
Steven: Outside of traveling, what has your experience been with The Oxford Club?
David: We've been very successful with The Oxford Club. We looked at other services and organizations and came to the conclusion that there really is only one group that fulfills our desires. That's The Oxford Club. In my opinion, or our opinion, really, no one can hold a candle to The Oxford Club. It's forthright, has integrity and honesty, and on top of that there's such friendliness and a willingness to meet and talk and chat. You're made to feel like an equal with anyone you meet. We always have so much fun with the staff and the Members and the information and the guidance have really helped to return our initial investment, which is also important to us.
Steven: That's wonderful. What is your favorite part of traveling in general and with The Oxford Club in particular?
Elke: I think the one thing that keeps running through my mind is that The Oxford Club just has such a nice way of balancing everything out. There's an adequate amount of time scheduled for learning, but it's also balanced out with breaks, lunches, dinners and cocktail parties that give us time to get to know the staff and other Members. I think that's very important.
Steven: I'm happy to hear that. Before we finish up, is there anything else you would like to share with our fellow Members today about our events or the Club in general?
Elke: Well, I would say that in order to get all of the expertise and get all of the information and have the full experience you really should try to attend some of the events. The Oxford Club just does such an amazing job. It would take many years and thousands of dollars to compile all of this information on your own.
World Financial Seminars in Pictures