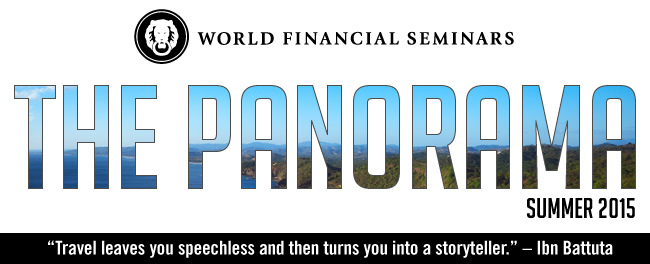 A NOTE FROM THE WORLD FINANCIAL SEMINARS TEAM
It has been said that to travel is to live. Traveling not only teaches us the value of life, but also shows us just how beautiful this world can be. It allows us to live our days to the fullest.
Twenty years from now you will be more disappointed by the things you didn't do than by the ones you did do.
– Mark Twain
In our day-to-day lives, many of us put traveling low on our priority lists. If we were to ask you about your past year – what stories would spring to mind? Surely not the hours you spent at the office, the gym or running errands. You'd most likely tell us about the traveling you did… the people you met… or the extraordinary experiences you had that you didn't expect.
The next time you sit down to make your priority list, we'd encourage you to remember all of these benefits and perks that come from traveling with fellow Members of The Oxford Club…
Travel gives us the opportunity to relax and de-stress. Many studies show that it's therapeutic to take a break from our fast-paced lives and the "norm." That alone can energize us and prevent our minds and bodies from stagnating.
Travel helps us to push ourselves outside of our comfort zones. It provides us with a whole new perspective and gives us the satisfaction that we were able to accomplish what we set out to do. Plus, it gives us the confidence to do it again!
Seeing the world provides us with a source of education impossible to get in school, teaching us invaluable life lessons and expanding our minds to new cultures. It also gives us the opportunity to meet new people and make new friends.
Our priority here at World Financial Seminars is to help you travel the right way with the right people.
And perhaps one of the biggest perks of joining us is that you'll not only get to discover new places, but you'll also learn the best ways to achieve financial freedom so that you can continue incorporating new experiences into your life.
We hope you'll join us soon!
Sincerely,
Your World Financial Seminars Team
---
Earn 12% or More… Plus a Look at History Like
You've Never Seen Before
An Afterword: The Oxford Club's Private Wealth Seminar
July 20-21, 2015 | Beaver Creek, Colorado
We recently returned from our travels to breathtaking Beaver Creek, Colorado. And to say we were sad to leave this wonderful village famous for its old-world charm and modern-day luxury would be a true understatement.
In this beautiful mountainside setting, we gathered with many of The Oxford Club's accomplished investment experts and more than 100 Members and their guests to discover today's best strategies for collecting 12% income in today's low-yield world.
Here's a peek at some of the topics our guests enjoyed:
Chief Investment Strategist Alexander Green shared his two favorite investments for collecting high yields in today's market.
Chief Income Strategist Marc Lichtenfeld revealed how to incorporate BDCs, REITs and MLPs for the best yields. Plus, on day two he shared the names of three small cap dividend plays paying big that you likely won't hear about anywhere else.
Emerging Trends Strategist Matthew Carr uncovered several profitable plays for the second half of the year.
Bond Strategist Steve McDonald gave details on his exclusive strategy that allows our Members to make four times more income with 98% security.
Energy and Infrastructure Strategist David Fessler discussed five must-have "moat" stocks for your portfolio.
Our Members always look forward to hearing the latest investment strategies and exclusive recommendations from our editors and guest speakers shared only at these events.
Here's some of the great feedback we received just from this Private Wealth Seminar…
Several of our Members commented on the stunning resort and location. They also told us how wonderful it was to actually meet and engage with the people they get their investing ideas from.
One Member even wrote in to say, "Seeing and hearing your newsletter writers in person really fleshes out their methodology and lends tons of personal credibility toward their analysis and recommendations."
Another said, "I can't believe The Oxford Club feels like such a family! I even met so many actual family members. It makes these seminars not only informative, but fun, too!"
But perhaps everyone's favorite takeaway was our private reception at Saddle Ridge, sponsored by EverBank World Markets.
This living museum of frontier artifacts such as Geronimo's tomahawk and General Custer's hat and canteen served as a spectacular venue for our guests to mingle and get to know one another as well as our team of investment experts.
I encourage you to take a look at more of the photos from this evening in our photo album below!
A Special Note From World Financial Seminars
Executive Director Heather Phillips:
If you weren't able to make it to Beaver Creek, Colorado, for our first Private Wealth Seminar of the year, don't worry! There are still a few spaces available for our upcoming fall Private Wealth Seminar at the luxurious Fairmont Southampton in Southampton, Bermuda, this coming September 17-18! For details on this event – and to register – simply click here now.
---
Our Elite Connection Opens a Private Door
for You at the Met
The Oxford Club's Beyond Wealth Series:
Investing in Fine Art and Collectibles
October 19-20, 2015 | The Metropolitan Museum of Art
New York, New York
This coming October 19-20, your World Financial Seminars team, along with The Oxford Club's Executive Director Julia Guth, will travel to vibrant New York City for our first-ever seminar on investing in fine art and collectibles.
This exciting event will be held at the prestigious Metropolitan Museum of Art – and we would be delighted to have you join us!
Thanks to our exclusive connection with Dr. Dan Weiss, president of the Met, we have the rare chance to connect a small group of our Members with many leading experts on art and collectibles from around the world.
Those who attend will not only have the opportunity to meet, drink and dine with these experts, but will also discover their best strategies for profiting from coins, fine art, antiques, stamps and more.
Because these assets exist outside of your account balance, financial statement and exchange market, they can help you earn big profits while protecting you from economic uncertainty.
For instance, according to publisher Raconteur, over the last 10 years…
Investments in fine art have grown 252% and have offered annual
growth of 15%.
Investments in rare stamps have grown 255% and have offered annual
growth of 10%.
Investments in rare coins have grown 248% and have offered annual
growth of 11%.
And while it may seem hard to believe, anyone can use real assets like these to diversify their portfolio – and make money.
In fact, the experts we have gathered would all agree that with today's turbulent global financial markets – and the world banks ushering in a new era of uncertainty on interest rates and currencies – there's no better time to incorporate real assets like coins, fine art, antiques and stamps into your portfolio.
By doing so, you will not only give yourself the chance to earn good returns, but you'll also:
Limit your tax liability – Fine art and collectibles present unique opportunities for an investor to reduce current income tax and eliminate capital gains and estate taxation on art assets.
Create a legacy to pass on to your heirs – You can easily pass these assets on to your heirs, or allow your rare pieces to increase in value over time in a trust fund, children's account or as part of your personal portfolio.
Protect yourself from the uncertainty of the markets – Real assets like fine art and collectibles traditionally maintain their value even as prices rise and the purchasing power of the dollar falls.
The benefits are truly endless.
And, as with all of our events, you can be sure that your experience with us will go far beyond what you'd expect from a typical conference.
We're truly rolling out the red carpet and reaching out to all of our best connections to ensure your trip with us is a memorable one.
To take a look at everything we have planned – including our lineup of speakers and exclusive event "extras" – simply click here now.
---
Get Ready to Cross This Dream Locale off Your Bucket List
The Inaugural Beyond the Dollar Summit
January 12-17, 2016 | Colonial Granada & Idyllic Rancho Santana
Nicaragua
If ever there was a destination to put on your bucket list, Nicaragua is it. Known for its cultural richness, historic Spanish colonial architecture, friendly faces, lush rain forests and vast white sand beaches, Nicaragua is today's newly discovered "paradise."
For this reason and many others, it's the perfect location for the Inaugural Beyond the Dollar Summit this coming January 12-17.
There's simply no better place to discover the abounding opportunities for American investors abroad.
You see, thanks to the recent strength of the dollar, serious value plays are for the taking for savvy investors looking to diversify their portfolios out of the pricey U.S. market.
In fact, outside the borders of the U.S., the dollars in your bank account now buy about 20% to 30% more goods and services than they did just one year ago.
Not only does that equal a cheaper European vacation, but it also means bargains in foreign blue chips, growth stocks, quality bonds, hard assets like vacation real estate and art… even a second passport.
We've teamed up with the experts at Beyond the Dollar to show you exactly how to make your dollar go further.
That includes your hosts Eric Fry and Karim Rahemtulla, global investing experts of Beyond the Dollar, as well as several other special guest speakers like Mary Anne and Pamela Aden of The Aden Forecast, real estate expert Gail Geerling, commodities and futures expert Barry Potekin, and more.
In colonial Granada and serene Rancho Santana this coming January 12-17, 2016, they'll share their insights on:
High-yielding natural resource stocks
Income-producing foreign real estate
The range of options for obtaining foreign passports and/or legal residency
Legal tactics for privately holding and building wealth offshore
"Secret currencies" that will soar when the dollar weakens
"Backdoor plays" in the oil and gas sector
How to invest alongside the world's best hedge fund managers
In addition to these enlightening seminars, you'll also have the chance to enjoy an exclusive gala auction, private dinners with your new friends and our team of experts, and several other special surprises!
For all the details on this one-of-a-kind event, simply click here now.
---
Open Your Eyes to a World of Relaxation and
Five-Star Luxury in Napa Valley
The Oxford Voyager Club's Beyond Wealth Retreat
February 21-24, 2016 | Calistoga Ranch
Napa Valley, California
Tucked into a private canyon in upper Napa Valley on a 157-acre site marked by ancient oaks, majestic hills, a rock-hewn stream and a private lake sits the paradisiacal Calistoga Ranch – the venue for The Oxford Club's Annual Beyond Wealth Retreat this coming February 21-24.
This gorgeous Napa resort is a luxury retreat that coexists with nature, creating a completely new level of connection, comfort and contentment.
This is your chance to escape into a world of relaxation and five-star luxury and experience for yourself what it truly means to live "Beyond Wealth."
During your stay, you'll also be provided with the knowledge necessary to maximize your wealth so that this standard of living can become your new normal.
You'll spend time with The Oxford Club's team of accomplished investment experts – including Alexander Green and Marc Lichtenfeld – during an exclusive cocktail and dinner party on the first evening of the retreat and a cocktail reception on the second evening…
Enjoy an exciting presentation on wine tasting with Master Sommelier Sur Lucero, who will help you explore the five main tastes we perceive as humans and how they affect our perception of wine…
And explore Napa Valley along a private two-stop winery tour and tasting at the charming Flora Springs Estate and lovely Allora Vineyards.
This is our most exclusive annual event and to ensure that all of our guests have the most memorable time possible, we only offer 25 "all-inclusive" packages – accepted on a first-come, first-served basis.
To view the full brochure for this event, simply click here now.
Member Spotlight
"I feel like I was made for this kind of lifestyle and now I can finally take advantage of it." – Claudia Lutz
Here at World Financial Seminars, we truly value the loyalty you have shown our programs. That's why we've decided to turn the spotlight on you! We hope you enjoy this interview with two of our wonderful travelers, Bill and Claudia Lutz.
Bill and Claudia Lutz
Oxford Club Members Since May 1996
Chairman's Circle Members Since February 2011
Steven King: Can you tell us about the first trip you took with The Oxford Club?
Bill Lutz: Of course. It was to Nicaragua. It was our first trip after we decided to join The Chairman's Circle. The theme was emerging markets. It's funny, I actually went to a chapter meeting before joining The Chairman's Circle in Detroit years earlier. I listened and studied and watched, but didn't have much money at the time. But I paper-traded everything. And realized that you guys were worth staying with.
Steven King: I know that you follow some of our recommendations now. Can you tell me when you started?
Bill Lutz: Well, I was impressed when I was just using the basic Oxford Communiqué. Then a few years later when I met Claudia and we joined The Chairman's Circle we really started to take advantage of the whole program. We really like to follow Marc, Matthew, Dave and Alex. We read all of them, but those are the recommendations we mostly follow. It's a great education.
Steven King: And I understand you've had very good luck with a couple of Marc's recommendations in particular. Would you mind sharing that story with us?
Claudia Lutz: Well, we did very well with a recommendation that Marc had made – Celldex. We decided when we received the invitation for your tour to Zurich that we wanted to go there and thank him personally. We were just so tickled. The money we made from that one recommendation paid for the trip and two business-class tickets to boot.
Bill Lutz: That was a first for us. We'd never traveled business class before.
Steven King: Once you go business class it's hard to go back.
Bill Lutz: Oh, we're not going back.
Steven King: And when you joined us last year at our Private Wealth Seminar in Québec you had an update for us?
Bill Lutz: Yes. More recommendations went well for us and we were able to buy a second home in Florida. And pay cash for it.
Steven King: And then there was a third update here today?
Claudia Lutz: You mean our new boat? Yes. Bill grew up on the Chesapeake and had wanted a boat his whole life. He'll be 70 next month so we decided to go for it. We thought if he was ever going to have a boat, we better get one now. And so we bought a 24-foot Robalo with two 200-horsepower Yamahas so we can go fishing.
Steven King: That's great. We love hearing that. Our goal here is to help people like the two of you achieve this lifestyle. And to give you the research and recommendations that can help you afford it – to help you pay for these trips that you say now pay for themselves.
Claudia Lutz: My feeling about The Oxford Club and what it has done for me over the years is great. I always had a financial advisor. And when I met Bill I saw that he was doing his own buying and selling with the advice he was getting from The Oxford Club. At first after we got married I stayed with my financial advisor. But it wasn't long before it was a no-brainer. I decided to get rid of those guys and just do it myself along with Bill. The information you send is so well-researched and it gives us tools that allow us to make our own educated decisions and to succeed. It's just remarkable.
Bill Lutz: Well, and I think, besides the recommendations, that the ancillary information, whether it be teaching new trading systems or teaching a certain investing philosophy, if you will, helped us gain the confidence to go about trading ourselves. We have actual actionable advice that makes sense to us.
Steven King: And in regard to traveling with the Club, can you tell me what your favorite part has been?
Claudia Lutz: I just love the special places you offer. Like I said, I was made for that kind of life and I'm going to take advantage of it now.
Bill Lutz: Well, I think the venues are important, but the behind-the-scenes things that we saw in Vienna, for instance, or on the Fritz trip were just something you can't do by yourself. They're things you can't access on your own. You have to have inside connections. That's when we decided that if we're going to go somewhere foreign, we'd like to go with you guys. And not only because of the great events you put together, but because we love meeting the like-minded people, too.
Claudia Lutz: Oh my goodness, yes. That's a huge benefit.
Steven King: So, where would you like to see us go next? If you could pick a destination, where would it be?
Bill Lutz: New Zealand is definitely on the list for me. We'd love to go to Hawaii – we're sorry we missed that trip this year. Or somewhere in Eastern Europe.
Steven King: I'll keep those in mind. Before we finish up, was there anything else that you'd like to share with our Members who may be reading this or who perhaps haven't traveled with us before?
Bill Lutz: Well, I would sure encourage people to travel. To just pick a venue that appeals to them and go. That's what we've done.
Claudia Lutz: Yes. And to meet the people that you read. It's so important to me to know that they have integrity and they're not just some kind of marketing mouthpiece. I feel like I'm a groupie for these guys. I've really gotten to know their personalities coming on these trips and I see that they really care about our success. It's not just about what they're writing. That was a big turning point for me.
Steven King: That's so true. That's part of what makes us different. We're a club. Well, I want to thank you both for sitting down with us to share some of your memories and experiences. Can't wait to hear the next update!
World Financial Seminars in Pictures