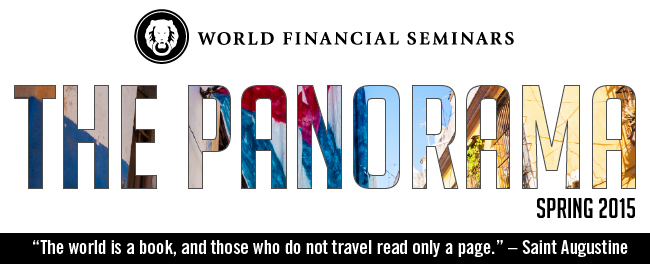 A NOTE FROM THE WORLD FINANCIAL SEMINARS TEAM
Travel, at its heart, allows us to connect more authentically with the world in which we live. It allows us to explore the beauty of new places, discover secret corners and appreciate the distinct features that make every region unique.
Recently, our team has returned from two unforgettable trips – our Inaugural Beyond Wealth Retreat at the stunning Four Seasons Resort Hualalai in Hawaii, and our 17th Annual Investment U Conference at the luxurious Renaissance Vinoy in charming St. Petersburg, Florida.
How incredibly humbling and wonderful it was to have the opportunity to fully engage ourselves in the beauty of these two very different locales and engage in rich discussions and presentations on how to achieve success in today's markets.
And just think: We're only getting started!
Our upcoming events offer more opportunities than ever to discover a host of new destinations and ideas to take your wealth to new heights.

In this newest issue of The Panorama, you'll find a special wrap-up on the Retreat and Conference we've hosted so far in 2015… exciting details on upcoming events… information on the latest benefit we've added for Oxford Voyager Club and Chairman's Circle Members… photos from our travels… and more.
We hope you'll enjoy seeing where we've been – and where we're going next!
We look forward to seeing you soon.
Sincerely,
Your World Financial Seminars Team
An Afterword: The Oxford Voyager Club's Inaugural Beyond Wealth Retreat
This past February 7-10, along the backdrop of lush palm trees, smooth waves and sea turtles sunning on the beach, The Oxford Voyager Club hosted its Inaugural Beyond Wealth Retreat.
It was our sincere hope that this intimate event would not only connect our 44 attendees with the most exclusive ideas for building a "perfect portfolio"…
But also that it would help them dig deeper into the idea of what it means to truly live "beyond wealth."
It's about being able to follow your dreams and escape the daily grind… to enjoy life to the fullest… and so much more.
Those who attended had the opportunity to:
Enjoy presentations from our team of investment experts, including Chief Investment Strategist Alexander Green, Chief Income Strategist Marc Lichtenfeld, Emerging Trends Strategist Matthew Carr and Resource Strategist Sean Brodrick. Each presentation featured exclusive recommendations available only to the 44 Oxford Voyager Club Members who attended.
Participate in a special session with Retirement Specialist Evan Belaga. Evan truly knows what it means to live beyond wealth and is "living the dream" every day in Hawaii.
Get to know one another during our private tour of Hawaii's Kona Joe Coffee farm and the Original Hawaiian Chocolate Factory. They even got to indulge in samples of delicious chocolate from this plantation – one of the first to grow, handpick, sun dry and process only 100% Hawaiian cocoa beans.
Relax on the lush lawn overlooking the beautiful Pacific Ocean during our intimate, Editor-hosted reception and dinner.
It truly was the trip of a lifetime and we've thoroughly enjoyed hearing the feedback from all of our attendees…
"The speakers were great – we expected them to be, and they delivered. Knowing that we will get more information from the meetings online also makes us happy! We are already looking forward to the event in California next year."
– Jim and Joan S.
"We had a WONDERFUL time!!! We are excited to execute some of the investment ideas we heard about at the meeting from a number of the speakers!"
– Debbie M. and Greg L.
"Thank you Steven and Heather. It was a pleasure meeting you all! My wife and I had a glorious time in Hawaii and look forward to future trips with The Oxford Club."
– Alan and Jeanne C.
With the resounding success of this event and the demand for more, we are already working hard to put together the finishing touches on our next Beyond Wealth Retreat taking place February 21-24, 2016, at the luxurious Calistoga Ranch in beautiful Napa Valley, California.
For details on this event and to register, please contact your Oxford Voyager Club Concierge Page Carpenter by phone at 443.708.9411 or toll free at 844.294.4696, or by email at voyagerclub@oxfordclub.com.
An Afterword: The Oxford Club's
17th Annual Investment U Conference
It's hard to believe that it's been almost a month since we kicked off our 17th Annual Investment U Conference in charming St. Petersburg, Florida.
This year, our main goal was to answer the question, "Is America on the Verge of a New Golden Age?"
It's a topic our editors have been discussing and debating for quite some time now… and is something weighing heavily on the minds of many of our Members.
According to Chief Investment Strategist Alexander Green, we are not on the verge of a Golden Age, but are, in fact, already living in a Golden Age.
He argued investors have never had it better. Capital markets have never been deeper, more liquid or more transparent… information has never been less costly or more accessible… trading costs have never been lower… spreads have never been thinner… executions have never been faster… and there are more high quality investment choices available today than ever before.
Welcome Back,
David Fessler!
This year we were also honored to welcome back The Oxford Club's Energy and Infrastructure Strategist David Fessler.
We can't wait to see how his eight top energy picks for 2015 perform!
And we look forward to hearing his best income ideas for the coming months at our upcoming Private Wealth Seminar in Beaver Creek, Colorado!
Many of the two dozen attending experts agreed.
And over the course of four action-packed days, they delivered a combined total of 102 recommendations for attendees to profit from in the months ahead.
For instance:
Alex Green shared seven plays he's identified based on his unique investing disciplines
Marc Lichtenfeld revealed the names of 15 companies he believes will take off in the coming weeks
Matthew Carr unveiled seven ways to play his proprietary Prime System
Steve McDonald listed 12 great ways to profit in the bond market
And Sean Brodrick announced an incredible 18 stocks that he believes have huge potential in light of America's New Golden Age.
"I think I enjoyed this IU more than any of the many I've attended before."
– Byron King, Oil and Energy Expert, Agora Financial
In addition to sharing in a wealth of unique investment ideas, attendees also had the chance to participate in The Oxford Club's exclusive Silver Anniversary celebration in the Renaissance Vinoy's expansive tea garden.
Here, The Oxford Club's Executive Director Julia Guth recognized those who have helped make the Club what it is today – including Alexander Green, Steve Sjuggerud, Barry Potekin, Don Hosmer, the team at EverBank, the Checkans, Rick Rule, James Boxley Cooke, Dr. Mark Skousen, Mark Masterson Ford, William and Elizabeth Bonner, and Karim Rahemtulla – with an elegant silver award.
It was a wonderful opportunity for all to celebrate the successes The Oxford Club has helped them achieve and to mingle with our experts and one another.
A Special Note From World Financial Seminars
Executive Director Heather Phillips:
If you weren't able to make it to St. Petersburg this year, don't worry. You can still get access to all of the great insights and recommendations that were shared.
We are currently putting together our Millionaire Master Plan 2015. This resource will give you direct access to all of our experts' presentations – including their most profitable ideas and recommendations for this year.
Be sure to check your email in the coming weeks for more information.
Cuba Is Calling…
The Oxford Club's Cultural Expedition to Cuba
November 6-13, 2015
Intoxicatingly colorful… deeply intriguing… and on the brink of change.
Those are just a few ways to describe Cuba.
Today, it's our great pleasure to invite you on a once-in-a-lifetime journey to experience the hidden treasures and charms of Cuba.
Our program will begin and end in Havana – with excursions into the countryside – and will provide a taste of Cuba's burgeoning private sector as well as cultural delights of the Cuban people.
Old Havana is a paradox at every turn, an eye opener in every sense of the word and one of the world's most romantic and alluring cities.
The countryside is also captivating, a tableau of gorgeous scenery, charming colonial towns and warmhearted, resilient people.
On our eight-day U.S. government-sanctioned education exchange program, we will be cheerfully greeted by locals intent on comparing perspectives, treated to fresh, lovingly prepared food, and welcomed like the neighbors we inescapably are.
Together, we will learn about Cuban-American relations and meet with musicians, historians and artists. We will have the chance to:
Participate in an exclusive architectural tour through the Habana Vieja, one of the country's most charming areas
Meet with a Professor of Economics from the University of Havana to learn about the country's privately owned businesses
Enjoy cocktails in the private home of a local artist and curator for a private viewing of their gorgeous property and renowned collection of artwork
And travel into the beautiful, multiethnic Vi̱ales Valley Рa World Heritage Site Рwhere we will experience life on a family tobacco farm and see a community project for children.
These interactions will provide insight into the progression of Cuban art and politics through the country's history and are sure to delight all of your senses.
To help us facilitate this tour, we are working with Adam Vaught, recently named the Top Travel Specialist for Cuba by Condé Nast Traveler.
Adam has lived in Cuba, guided in Cuba and cultivated relationships all over the country with everyone from salsa experts to surgeons – making him the perfect tour guide for us.
Since part of this tour involves being welcomed into several private homes, we are keeping this group intimate and will only be taking 24 Members.
For more details and to register today for The Oxford Club's Cultural Expedition to Cuba, please call Adam Vaught with Absolute Travel at 212.627.1950 or you may email him at avaught@absolutetravel.com.
Take Your Pick!
The Oxford Club's 2015 Private Wealth Seminars
Beaver Creek, Colorado: July 20-21
Southampton, Bermuda: September 17-18
One of the most common questions our Editors have been asked lately is: "How do I achieve a high income in this low-yield world?"
You see, it used to be getting retirement income was easy. But not anymore.
The fact is: It's time to find new, significant sources of income that offer the same attractive long-term returns of days past.
To help us navigate the changing landscape of income investing, we've called on our team of accomplished investment strategists.
And we've asked each of them to share their top new income sources and strategies for getting paid 12% or more on your money at our exclusive 2015 Private Wealth Seminars.
Better yet? You now have two choices as to when and where you'd like to join us! Here they are…
Option 1: Park Hyatt Beaver Creek Resort and Spa
Beaver Creek, Colorado
From the moment you arrive at this esteemed resort, you'll revel in a harmony of thoughtfully considered elements that provide a singular experience in one of the world's most incredible mountain settings.
Here, the uncommon becomes your everyday…
Play a round of true Rocky Mountain golf… take in amazing vistas from the outdoor fire pits… gaze out at the beauty of Beaver Creek Village… and enjoy gourmet dining, boutique shopping and more.
Recently redesigned to highlight the hotel's warmth and mountain sophistication, there's a good chance you won't want to leave! And you won't have to… at least not right away…
That's because we negotiated an amazing discount on the nightly rate for our Members not only during our event, but also for the three days before and three days after the event.
When you join us at the Park Hyatt Beaver Creek Resort and Spa for our July 20-21 Private Wealth Seminar, you'll pay only $189 per night. That's more than$200 less than the normal rate and an incredible deal considering all the acclaim this resort has received lately.
In fact, it was just recognized by Travel + Leisure as a 2014 World's Best Resort… by Condé Nast Traveler as one of the Top 25 Spas in the World… by Forbes Travel Guide as a Four-Star Hotel… by AAA as a Four Diamond Hotel… and more.
Option 2: The Fairmont Southampton
Southampton, Bermuda
Imagine lush tropical gardens, shimmering pink sand beaches, azure blue seas and spectacular sunsets, and you have envisioned Southampton, Bermuda.
Perched royally on the island's highest point, The Fairmont Southampton overlooks lush acres of land, pink sand beaches and bountiful gardens, and offers unparalleled amenities.
Relax beneath a rainbow of umbrellas at the Beach Club… hit the links for a round of golf… grab your racquet for a tennis match… snorkel your way around the reefs… ride the waves on a jet ski… explore the island on your scooter… and enjoy the award-winning cuisine at any of the resort's six restaurants.
Once again, we were able to negotiate a significant discount on the nightly rate for our Members. When you join us at the Fairmont Southampton for our September 17-18 Private Wealth Seminar, you'll pay only $289 per night for a deluxe room. That's more than $260 less than the normal rate!
We know that you'll adore the old-world British charm blended with the new spirit of Bermuda at the Fairmont Southampton!
No matter which option you choose, we're certain you'll be pleased.
Early bird discount ends May 1.
For more details and to view our complete brochure, simply click here now.
Introducing Our Newest Benefit:
Available Exclusively to Chairman's Circle and Oxford Voyager Club Members Only
We are thrilled to introduce a brand-new benefit in 2015 for our Chairman's Circle and Oxford Voyager Club Members.
While our main goal at The Oxford Club is to help our Members grow and protect their wealth, we also realize a large part of the value of achieving financial freedom is living life on your own terms.
And although there's no single definition of "healthy," I'm sure we can agree that everyone wants to look and feel their best and be able to fully participate in activities they enjoy.
It's been said, "there is no wealth without health…"
And that's exactly why we would like to provide a way for you to access some of the best preventative care available.
We are pleased to announce that our Chairman's Circle and Oxford Voyager Club Members, as well as their spouses, can now take advantage of a 20% discount offered by Cleveland Clinic's Executive Health Program.
Cleveland Clinic is ranked as one of America's top four hospitals by U.S. News & World Report and, for the 20th consecutive year, its heart program has ranked as the best in the nation.
With today's busy lifestyles, too often we don't make time for preventative care. But Cleveland Clinic's Executive Health Program enables you to take charge of – and optimize – your wellness.
For more details, or to schedule your appointment today, please use the contact information below. To be eligible for the discount, you must identify yourself as an Oxford Club Member when you contact Cleveland Clinic.
We hope you will enjoy this great new benefit!
CONTACT INFORMATION:
Cleveland Clinic Executive Health Program
Cleveland, Ohio: 216.444.5707
*Participation in the Executive Health Program is for U.S. residents only.
** The Oxford Club receives no financial compensation from Cleveland Clinic.
An Interview With Barry Potekin:
Vice President of the RMB Group
(and former "Hot Dog King of Chicago")
For over two decades, The Oxford Club has had the pleasure of working with the RMB Group – a full service commodity futures brokerage firm that specializes in designing custom strategies to fit your personal interests and risk tolerance levels.
Here at World Financial Seminars, we would agree that one of the best things that has come out of our relationship with the RMB Group is our friendship with its Vice President, Barry Potekin.
Barry has been a favorite among our staff and our Members for many years. He's traveled with us on some of our most exclusive events and we feel very lucky to have him as a member of our Pillar One Advisors program.
We hope you will enjoy getting to know Barry in this special interview.
Steven King: Barry, it's great to talk with you today. It was great seeing you at our 17th Annual Investment U Conference a couple of weeks ago. I hope everything is going well in Chicago.
Barry Potekin: Everything's going terrific. Thank you for asking, it's going great.
Steven: Happy to hear. I wanted to thank you for taking a few moments today for this interview. Now I know you've been traveling with us now for about 15 years. Could you tell me if there are any trips in particular that stand out for you?
Barry: Well, there are a couple that stand out. They're all really terrific. I got to tell you, you do your homework, you and Heather. You really have picked some outstanding places to go to, and besides that, you pick outstanding places to stay at when we go there. But two that stand out really for me are the cruise to the Saint Lawrence Seaway to see the fall colors and the cruise to Australia and Indonesia last year.
Steven: Those were great! Can you tell me more about your experience on these trips?
Barry: Sure. Since I was a kid reading about geography in grammar school, whenever that was, the Saint Lawrence Seaway fascinated me and I just thought it was very cool because the whole history of North America happened in the Saint Lawrence Seaway, so that was a special one for me. But, I think what really takes the cake is Australia and Indonesia last year. That was unbelievably outstanding, and I went, as you know, to the Komodo Islands to see the komodo dragons, which is the most exotic thing I've ever done and the most dangerous thing I've ever done. But it was unbelievably cool and I still talk about it. I had pictures blown up, I framed them and I have them in my house. Those two really stand out.
Steven: I'm so happy to hear that. Were there any others that stood out for you?
Barry: Of course. There's Bermuda with the pink sand beaches. Then there's Quebec City, which was unbelievable. And the hotel you chose there, the Fairmont Château Frontenac was outstanding. It's got to be one of the best hotels in the world. You pick many of the best hotels in the world.
Steven: Well, thank you. It's a great part of my job and I'm so happy to do it. And the cruises you mentioned are always wonderful. Those were The Oxford Club's Fall Foliage cruise in 2008 and then The Chairman's Circle Wealth Cruise to Sydney and Bali about a year ago now, both aboard the Crystal Symphony. And I'm not sure if you've heard, but we're actually going back on the Crystal next year in March for our 2016 Chairman's Circle Wealth Cruise from Colon to Miami.
Barry: I'm in!
Steven: That's great! Now, I know you do conferences with some of Agora's other publishing groups. What is it about The Oxford Club and our Members that stands out for you?
Barry: First of all like I said earlier, I have to hand it to you and Heather, you really pick some outstanding places. Your events are the most organized out of all the ones I attend. You've got it down. You've been doing it for many, many years and you know how to do it. The quality of the people, I mean I have made some lifelong friends of Members. And aside from that, I love how accessible your speakers are. They're always there and available. I see them going to dinner with the Members, having lunch, grabbing drinks. You can actually talk to them and get to know them and I think that's just outstanding. It's very unusual and I think attendees love that.
Steven: That's something we pride ourselves on and I love hearing that feedback from our Members and our speakers. Now, I know this may be a little off topic, but I think our Members would be very interested to know that you were once the "Hot Dog King of Chicago." Can you tell us about that?
Barry: Okay. So, I came up with that idea back in 1984. I've been a serial entrepreneur my whole life and they say there are many different definitions of an entrepreneur, but one of the better ones that I like is an entrepreneur has the ability to hit a target that no one even knows is there. Now, not that I'm patting myself on the back, I half didn't even know I was inventing it. I sort of invented something and I noticed something that wasn't happening.
You see, back in 1984 when I came up with the idea, there was no such thing as upscale fast food. That was an oxymoron. Fast food was fast, it was usually fried, it wasn't good for you and while it tasted good, it was very unhealthy. But, I noticed they were starting to use the word yuppie and my generation, the baby boomers, they had money and now they wanted to eat better. So I opened up in Chicago, where there are 3,500 hot dog stands, a hot dog restaurant.
I had a very good hot dog and a good bun and there were condiments, but I was the first fast food restaurant in the country to put in fresh, never frozen, charcoal broiled swordfish sandwiches in a hot dog stand. And nothing was ever frozen. Every morning I would go down to the market and get a case of chicken breasts and never frozen white albacore tuna.
I put in Perrier water. They'd have a hot dog and a Perrier. They didn't even have Pellegrino in those days, it hadn't come here yet, but Perrier was the big water.
And I made a tremendous effort at service. I treated people like they were spending $30 on a steak dinner.
And the other thing that helped propel me was, because I didn't have a lot of money when I started this, I did unusual things to get publicity. It was nothing that really cost any money, but then in June of 1985, I got written up for the best hot dog in Chicago. And then two months later the Chicago Tribune wrote me up as the best hamburger, and then that started a whole series of unbelievable things. I wound up on David Letterman, on Oprah, in People magazine. I can't even think of all the stuff. I had been on the cover of Success magazine. I wound up doing little bit parts in movies. They would film movies and my place. I remember one time I got a phone call, someone said hey, John Candy says he's on the phone. So I go pick up that phone and it was John Candy in Chicago doing a movie. I mean Arnold Schwarzenegger told me that I have good milkshakes. And because of all that I wound up with 15 restaurants.
Steven: Oh my gosh. I knew part of the story, but not the whole story. I'm glad that you shared that with me and everyone here at The Oxford Club. Now, I have one more question, because we travel a lot together, is there one place we haven't been but you would like us to go?
Barry: I would have said Cuba, but I see now we're going to Cuba. That's always fascinated me. I was waiting for it to open up so we could go. But the one place that I would like to see more of is Asia. I'm in love with Asia and I thought that the last trip there was phenomenal. I have never seen Singapore and would love to. I think that's an exotic place and it's happening. I think a lot of people would enjoy that.
Steven: I'll have to check on the Crystal cruise opportunities for that! Well, Barry, before we wrap things up, do you have any final words or anything you'd like to share with our Members?
Barry: You bet. I've been doing this for many, many years now and for many, many organizations and I think that The Oxford Club is something unusual. It's a cut above. Everybody is a cut above, the people that work at The Oxford Club, the hotels that you pick, the quality of the Editors. I get so many newsletters free because we write a newsletter too which is only for in-house for our clients, so everyone exchanges them. I get maybe a hundred newsletters a month and most of them I don't read, but I read all of the ones that come from The Oxford Club. They're a cut above everybody else's and it's a really classy operation. That's how I would say it.
Steven: That's great to hear, Barry. I appreciate you taking the time to talk to me today and look forward to seeing you at our next event.
Barry: Terrific. No problem. Thank you for inviting me to do this!
World Financial Seminars in Pictures