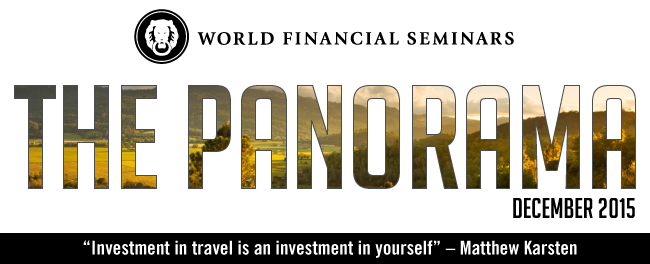 A NOTE FROM THE WORLD FINANCIAL SEMINARS TEAM
What's the easiest way to get more out of life?
If you ask us, it comes down to giving yourself the opportunity to experience new places, cultures and people.
We all know how easy it can be to get into a routine – or worse, a rut.
But when you have an experience outside of that routine, you realize that there's much more to life than simply checking off the things on your daily to-do list.
That's why, here at World Financial Seminars, we offer our Members the opportunity to revel in the "bucket list" experiences they have had, all while enjoying the company of like-minded travelers and gaining financial insights to help fund these travels.
The past few months have been packed with trips, tours and seminars.
In October, our Members had the chance to take part in a once-in-a-lifetime tour of France and Monaco…
A few short days later, The Oxford Club hosted its first ever Beyond Wealth Series event at the Metropolitan Museum of Art in New York City focusing on investing in fine art and collectibles…
And most recently, a select group of Members was invited to join us on a cultural expedition to experience the hidden treasures and charms of Cuba.
In this month's issue of The Panorama, you will discover insights from each of these events… as well as details on those coming up in the months ahead.
We encourage you to invest in yourself and join us at one of our future events!
Sincerely,
Your World Financial Seminars Team
---
"Paris Is Always a Good Idea…" – Audrey Hepburn
An Afterword: The Oxford Club's
Financial Discovery Tour
October 10-18, 2015 | France and Monaco
In October, The Oxford Club's Chief Investment Strategist Alexander Green and Event Director Steven King had the great pleasure of hosting 42 Oxford Voyager Club Members on a nine-day Financial Discovery Tour of France and Monaco led by European travel and lifestyle expert Fritz Satran.
We'd love to take a moment to share with you Alex's account of the highlights from this trip (and be sure to check out Alex's photos from the trip at the end of this issue of The Panorama)…
Dear Member,Â
I just returned from The Oxford Club's nine-day Financial Discovery Tour of France and Monaco, and wanted to share a few highlights with you.Â
I joined the group Saturday at the beautiful InterContinental Paris Le Grand. There we exchanged greetings and headed out for the evening. Our guide, the estimable Fritz Satran – whose Oxford Club tours have become legendary – arranged for a welcome cocktail reception at the Musée du Parfum, the former private home of opera star Maria Callas.Â
After an hour of champagne and camaraderie, we departed for Montmartre, a historic district in the northern section of the city. We wound through crowded streets, enjoyed the local Saturday night fanfare and then took the funicular up to a quaint French restaurant, Au Clair de la Lune.Â
Fritz didn't just obtain a room or large section of the restaurant. He reserved the whole thing. That allowed us to eat, drink and carry on for several hours without drawing the ire of anyone expecting a quiet evening out.Â
The following day we held the first of two financial sessions. I kicked things off with a survey of the investment landscape in the U.S., arguing that things aren't nearly as pessimistic as many believe. I pointed to low inflation, zero interest rates, an improving economy, the strong dollar, rebounding home prices, cheap energy and near-record corporate profits.Â
Robert Vrijhof, president of Weber Hartmann Vrijhof & Partners, made the case for investing in Switzerland and the Swiss franc. And Thomas Fischer, lead consultant to ENR Asset Management, laid out the pros and cons of diversifying assets offshore.Â
On Monday… Click here for the full article.
---
The Strongest Places to Diversify Outside of Stocks
and Bonds Right Now for Better Returns Over
the Next Five to 10 Years…
An Afterword: The Oxford Club's Beyond Wealth Series:
Investing in Fine Art and Collectibles
October 19-20, 2015
The Metropolitan Museum of Art, New York City
Last month, Club Members had the chance to join The Oxford Club's Executive Director Julia Guth at a VIP event in New York City. This unique seminar in our Club's Beyond Wealth Series focused on investing in the top alternative asset sectors of fine art and collectibles.Â
The idea was to create a one-stop shop of the world's premier experts in the various sectors of the collectibles and fine art markets… focusing on the sectors that have proven to outperform the S&P over the last 10 years or more and are expected to do the same going forward.
Our seminar took place at the Metropolitan Museum of Art and our guests were welcomed by longtime friend of The Oxford Club and new Met President Dr. Daniel Weiss.
In his welcome message, he likened the Met to a university, with its 21 knitted-together buildings and 6 acres of skylights! Dr. Weiss added (with a smile) that with its $300 million yearly budget and $3 billion endowment, the museum is better funded than some of the universities he attended.
Dr. Weiss gave our group a great retrospective on art and its significance over time. Dan believes that one of the main purposes of the Met – and all museums that preserve and protect works reflecting human civilization – is to enhance empathy for all humanity. Reminding us that the 20th century had the greatest rise of art and literature in human history… while pointing out that the same time period was the most peaceful in human history.
In addition, attendees had the opportunity to hear from several premier experts from around the world – including Geoff Anandappa, Keith Heddle and Richard Gladdle from Stanley Gibbons Ltd., who specialize in rare stamps, coins, historical documents and memorabilia… chief executive of The Fine Art Fund Group Philip Hoffman… rare books expert Max Hasler… contemporary Latin American art expert Suzanne Snider… principal at Sciens Capital and colored diamond expert Alex Loucopoulos… and CEO of Vinous and noted wine expert Antonio Galloni.
Here's a short summary from Julia on this event…
The bottom line…
Well-heeled investors are attracted to this tricky market… not just because it has posted huge returns over time and is noncorrelated to U.S. equities… but also because it pays "emotional dividends." It's the one investment you can truly fall in love with.
How do you confidently invest in a risky market?
What we heard repeatedly in New York is, you should become a passionate learner of the specific market that interests you. You do your own research, but also find the best specialists for that segment. Which is why I brought in these top experts from Europe and the U.S.
Many of the attendees at the meeting were concerned about traditional investments in the stock market. After a nearly seven-year bull market in stocks… noncorrelated alternative investments are looking much more appealing to these Members. But as we discovered at the meeting, alternative investments and rare collectibles have been excellent performers on their own.
So if you're interested, don't wait. Like the stock market… trying to time your entry is a fool's game. Our experts all advised to start small with investments that appeal to you.
---
A Once-in-a-Lifetime Journey to Experience the Hidden Treasures and Mysterious Charms of Cuba
An Afterword: The Oxford Club's Cultural Expedition to Cuba
November 6-15, 2015 | Havana, Cuba
"The city of Havana is fascinating and at times beautiful. Buildings that were at one time works of art are crumbling. Many appear unfit to be lived in, yet several families call them home. The lack of money and supplies to fix these once glorious structures is heartbreaking.
"When you do see a building that has been restored, it is quite striking. If the Cuban government was able to magically restore most of the buildings, it would be one of the prettiest cities in the world."
– Marc Lichtenfeld, Chief Income Strategist
A few short weeks ago, The Oxford Club's Chief Income Strategist Marc Lichtenfeld, World Financial Seminars Executive Director Heather Phillips and a small group of Oxford Club Members returned from a behind-the-scenes trip to Cuba.
Of course, the first question we got from our Members about this trip was, "Are there investment opportunities in Cuba?"
We tasked Marc with helping our guests answer that question, but he told us the response isn't a simple yes or no.
Rather than looking to Cuba as a place to invest right now, he suggested you go to simply experience the unique country and the culture.
He remembers fondly, "Cuba exceeded my expectations in many ways."
According to both Marc and Heather, the people were friendly, intelligent and open. The food was excellent. And the various experts and regular Cubans our guests got to meet along the way gave everyone a better understanding of the politics of the island.
Our group also had several wonderful cultural experiences. On their first night, they had the chance to watch a jazz quartet headed by professor Alberto Faya, who talked to everyone about the music he played. The quartet featured keyboardist Luis Pacheco, whose blazing-fast hands and pure joy impressed everyone. He is one of the world's up-and-coming pianists.
The next day's performance by the Irene Rodriguez Dance Company was equally as moving as the music from the evening before. Rodriguez and her company will play Radio City Music Hall in 2016.
Visits to organic farm Finca Agroecológica El Paraíso in Vinales as well as a cigar-rolling demonstration were favorites among the group, as was the walking tour of Havana.
There is no substitute for getting out in the streets and experiencing a new country and its people. That being said, the speakers who presented to our group were also incredibly informative.
University of Havana professor and economist Juan Triana not only gave our guests a history lesson on the country, but also explained that Cuba could be considered an example of "new socialism," where they keep free healthcare and education, but have more open markets. He said he would like to see Cuba emulate Norway.
Another speaker, Thomson Reuters reporter Mark Frank, echoed professor Triana's sentiment. Frank, who has lived in Cuba for over 20 years, said that under communism, everyone is equal. Under socialism, everyone has equal opportunity, and that's where Cuba is eventually going.
There were also several energetic conversations between our group's Cuban-American tour guide, Oscar, and other presenters who gave our guests insight into Cuban politics and life that they wouldn't have had otherwise.
To sum it all up, Marc says, "Visiting Cuba was an incredible adventure that was only made better by the openness and exchange of ideas between the experts, our guides and the travelers in our group. It was exactly what I'd hope to experience in this very complex country."
---
Escape Into a World of Relaxation
and Five-Star Luxury…
The Oxford Voyager Club's Beyond Wealth Retreat
February 22-24, 2016 | Calistoga Ranch | Napa Valley, California
Open your eyes to a world of relaxation and five-star luxury as you experience for yourself what it truly means to live "Beyond Wealth" at The Oxford Voyager Club's Annual Beyond Wealth Retreat in picturesque Napa Valley, California, this coming February 22-24, 2016.
Along this journey, we'll provide you with the knowledge you need to help maximize your wealth both financially and personally to achieve what our strategists call "the good life."
When you join us, you'll have the chance to enjoy…
Both an exclusive cocktail and dinner party on the first evening of the retreat and a cocktail reception on the second evening with The Oxford Club's team of accomplished investment strategists, including Alexander Green, Marc Lichtenfeld and Matthew Carr. (Please note they are unable to give personalized investment advice.)
An exciting presentation on wine tasting with Master Sommelier Sur Lucero, who will help you explore the five main tastes we perceive and how they affect our perception of wine…
A special opportunity to explore Napa Valley along a private two-stop winery tour and tasting at the charming Flora Springs Estate and lovely Allora Vineyards.
Plus, we've recently added two very special guest speakers: Adriane Berg and Dr. Michael Roizen.
Adriane Berg is the director of lifelong income and lifestyle planning at Ronald Gelok & Associates and is recognized as an innovator in creating "longevity planning" – a concept for investing throughout the age continuum.
And Dr. Michael Roizen is an award-winning author and the chief wellness officer at the Cleveland Clinic.
There's simply no doubt in our minds that they will be a wonderful addition to this exclusive event!
For more details and to register, simply click here or contact your Oxford Voyager Club Concierge Kiara Laughran today. You can reach her by phone at 443.708.9411 or by email at voyagerclub@oxfordclub.com.
---
The Best Buying Opportunity Since 2009?
The Oxford Club's 18th Annual Investment U Conference
April 13-16, 2016 | The Park Hyatt Aviara | Carlsbad, California
Year after year – for the past 17 years – we have watched the ideas shared at our Annual Investment U Conference turn into tremendous profit opportunities.Â
In fact, over the years, the plays shared at this closed-door event could have helped attendees score gains as high as 303% on Wynn Resorts, 155% on E-House (China) Holdings, 84% on General Electric, 275% on Tiffany, 103% on Cerner Corp. and 129% on Millicom International… the list goes on.Â
And at our 2015 event, attendees had the chance to score huge double- and triple-digit gains on 55 of the recommendations we made.Â
Here's the best part: We're confident our upcoming 18th Annual Investment U Conference will be even better…
You see, right now, many energy and commodities companies are trading at all-time lows – or very close to it.
But the same could be said of the Dow back in March of 2009. Stocks dropped to 6,600 points. And many investors made the mistake of going to cash. Since then, stocks have risen 158%.
Right now, our team of strategists – including Alexander Green, Marc Lichtenfeld, Matthew Carr, Sean Brodrick, David Fessler and Steve McDonald – believes that we may look back at this moment the same way we look back at the stock market of March 2009.
And they've found several bargains rising from this coming new supercycle in commodities and energy that they can't wait to share with you.
They'll reveal all of these moneymaking recommendations and research at our 18th Annual Investment U Conference at the Park Hyatt Aviara in Carlsbad, California, this coming April 13-16.
In total, you'll hear from over two dozen experts. These include our team as well as several noted guest speakers such as Jim Rickards, Karim Rahemtulla, Marin Katusa, John Hofmeister, Dan Ferris and Rick Rule.
Plus, you'll have the chance to participate in several special events, such as our welcome reception that will allow you to connect with the speakers and fellow attendees. (Please note speakers are unable to offer personalized investment advice.)
This could very well be the most life-changing and retirement-altering trip you take in your lifetime. We hope to see you there!
For all the details, simply click here now.
---
Member Spotlight
Here at World Financial Seminars, we truly value the loyalty you have shown our programs. That's why we've decided to turn the spotlight on you! We hope you enjoy this interview with two of our wonderful travelers, Timothy and Teresita Gray.
Timothy and Teresita Gray Oxford Club Members Since 1993
Steven King: Can you tell us about the first trip you took with The Oxford Club?
Timothy Gray: Yes. As far as trips go, that would have been the Vienna- Salzburg trip with Fritz. Before we started going on the tours, though, we would go to conferences.
Steven King: That was our 2010 trip with Alex and Keith Fitz-Gerald. Do you have any fond memories of traveling with people like Alex and Keith?
Timothy Gray: Well, for Keith, it was just great to kind of sit down and get to know his story. We know he's married to a Japanese gal. And that his father-in-law had so much trust in him that he actually gave him his Samurai sword, which was a family heirloom. And I think the great part about spending time with Keith was getting to know him as a person and a family man. He's a very down-to-earth guy. When you read newsletters, you end up idolizing the editors. They're not human until you have the chance to travel with them.
And with Alex, I think the fun part was seeing how approachable he is. It was fun getting to know his family. Karen was on that first trip and then his daughter Hannah was on the trip to Istanbul. The other fun thing about Alex I saw on this last trip was that he was always wandering off and getting lost. He is an infinitely curious individual, so it makes the trips a lot more fun too.
And I think this is a little off your question, but I think that being on the trips and having exposure to you and the other staff members who put these trips together helped us develop an appreciation for the dedication and commitment that the people involved in The Oxford Club have to what they're doing.
Steven King: Thank you. I appreciate that. It's very nice of you to say. Now, I know you've been on three trips with us led by European travel and lifestyle expert Fritz Satran and I was wondering if you could tell us what, outside of meeting the editors, has been a highlight for you.
Timothy Gray: I think, for me, the first trip to Salzburg and Vienna was just one highlight after another.
Teresita Gray: I agree. That was one of those trips that just blew us away. To have access to places that are so tough to get to and others that I never even knew existed was so neat. Seeing Mozart's baptismal cathedral… it was just amazing.
Timothy Gray: And of course it's hard to top the Liechtenstein Palace.
Teresita Gray: Oh, and the food! You could just eat and eat and eat. It's amazing. It's like "Oh, my gosh. We get to eat again?" You think you're not hungry but when you see the food, you say, "I guess I've got to have a little bite of this."
Timothy Gray: It's great that you don't have to spend your time worrying about things that most people worry about when they travel. Like how do I get from point A to point B? And how do I get a taxi? And how do I get my luggage? And all of the things that take up a lot of time with traveling. They're all just taken care of for you. And that is worth dividends. And of course this last trip to Paris, we still haven't come down to Earth from that one.
Teresita Gray: The memories of the places and people are great too.
Timothy Gray: The group dynamics were fascinating. It's an interesting group of like-minded people.
Steven King: Our Members have definitely come to expect five-star treatment from us. It's a really big deal and something we strive to offer with every event we plan. I'm curious: Outside of the travel, what has your experience been like with The Oxford Club?
Teresita Gray: We've been Members for a long time, but we actually didn't start investing on the recommendations until Alex took over. We got our toes wet and then saw that, wow, this is really doing good. We love looking at what Alex has to say…
Timothy Gray: And Marc, too. Marc has added a whole new dimension. I've been doing this long enough that I enjoy the information and I learn a lot from it. I don't necessarily act on everything, but Alex's recommendations have been really good.
Steven King: That's great. Thank you again. There are two other questions I'd like to ask before we wrap up. First, is there anywhere you would like us to go that we haven't been yet? Any place on your bucket list we should know about?
Teresita Gray: Ireland and Scotland. We haven't gone to Nicaragua yet, but we'd like to do that too.
Timothy Gray: Yes, Ireland and Scotland.
Steven King: I'll keep that in mind. And is there anything else you'd like to share with our Members today, especially those who have never traveled with us, about what it's like to go on an Oxford Club tour or conference?
Teresita Gray: Do it.
Timothy Gray: Yeah. It's kind of like the Nike slogan. "Just Do It." I would say, bottom line: If Fritz is running the trip, you won't be disappointed. We even contacted his office once on our own and he was able to get us in at a hotel where he likes to stay. Our room was upgraded, too. I couldn't believe it.
And as far as the conferences go, we've always enjoyed the conferences because of the locations. And I would say that for a newbie, yes, definitely go. But when you do, don't try to get everything in. Just go and enjoy yourself. Learn what you can and make some friends. And enjoy the location, wherever it happens to be.
Teresita Gray: Ditto to that.
Steven King: Wonderful. Thank you both so much for taking the time to share your experiences with us and our Members.
World Financial Seminars in Pictures