The Pendry – San Diego, CA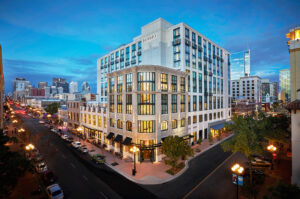 A First-Class Experience for Members Only
This April 28-30, we invite you to join us as we celebrate our 24th Annual Investment U Conference. During this immersive event, you'll have the chance to enjoy exclusive investment insights from our experts and special guests, participate in elegant Members-only events, and indulge in the luxury accommodations offered by our host hotel, the Pendry San Diego. It's truly an experience you don't want to miss, as the rewards – both personal and financial – will be immeasurable. Details below…
A Panel of World-Renowned Investment Experts and Special Guests
Every year, we gather dozens of leading industry experts and invite them to share the secrets to their success. Not only will you have the chance to hear from our own team – including Chief Investment Strategist Alexander Green, Chief Income Strategist Marc Lichtenfeld, Chief Trends Strategist Matthew Carr, Engineering Strategist David Fessler and Quantitative Strategist Nicholas Vardy, you'll also have the opportunity to hear from a number of additional market mavens. Past special guests include co-founder and CEO of Whole Foods John Mackey… National Geographic Fellow and Explorer Dan Buettner… Monument Traders Alliance co-founders Bryan Bottarelli and Karim Rahemtulla… Chief Investment Strategist of Trend Trader Daily Lou Basenese… and many more.
A Tradition of Profitable Investment Ideas
Year after year – for the past 23 years – our annual Investment U Conference has led to extraordinary gain opportunities for attendees. In fact, in recent years, the ideas shared at this closed-door event could have delivered you 102% on Ligand Pharmaceuticals in 14 months… 180% on 2U in 22 months… 809% on Applied Optoelectronics in 12 months… and even a whopping 1,765% on Tandem Diabetes Care in 12 months!
Small-Group Breakout Sessions
You'll have the chance to participate in a variety of small group breakout sessions – designed to give you a behind-the-scenes look at our experts' proven trading methods and secrets. These are always a favorite among our attendees! Find out how you can follow insiders to the chance at huge gains… explore hot new trends like cryptocurrencies and NFTs… discover different options strategies for taking your profits to the next level… and much more!
Exclusive Members-Only Celebrations
At the heart of every Investment U Conference are several expertly designed, Members-only celebrations organized by our Executive Event Director Steven King. We invite you to take these opportunities to enjoy great company, lively conversations, and delectable treats and libations with your fellow Members and our distinguished guests. Make memories and friendships that will last a lifetime.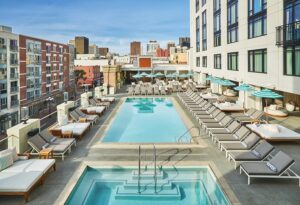 Luxury Accommodations
Located in the heart of the historic Gaslamp Quarter, the Pendry San Diego offers an inspired retreat surrounded by dozens of first-class restaurants, beaches, shops and more. Guest rooms and suites are tailored to provide the utmost in comfort and style, featuring an urban coastalCalifornia aesthetic and a balance of classic and modern luxury amenities… Six on-site restaurants and bars act as a sumptuous playground of food and drink, designed by the city's best chefs to delight your senses… And the resort's spa, wellness center and pool provide you with the chance to retreat from the demands of daily life with endless options to relax, restore and indulge your body, mind and spirit.
Best of all?
Our attendees will enjoy a discounted rate of just $293 per night, plus taxes and fees.