Milan | Lake Como | Verona | Venice
June 11-22, 2022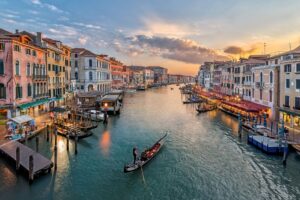 SOLD OUT
Our 2022 Wealth, Wine & Wander Retreat to northern Italy is now open for registration!
From June 11 to June 22, 2022, Fritz Satran, CEO and President of AESU Travel, will again function as our host, leading us and Chief Investment Strategist Alexander Green through the splendor that is northern Italy, visiting Milan, Lake Como, Verona and Venice.
Below are some of the many highlights we will be experiencing on this wonderful journey.
In Milan, we will be residing at the Principe di Savoia, a luxurious five-star hotel overlooking Piazza della Repubblica. During our stay in this elegant city, we will be visiting the Pinacoteca di Brera, a gallery that houses one of the country's foremost collections of paintings. Depending on the availability of tickets, we will also pay a visit to the Museo del Cenacolo Vinciano, housing Leonardo da Vinci's The Last Supper. We will explore the areas surrounding the Duomo di Milano, the famous cathedral that took nearly six centuries to finish, and indulge in the local Italian cuisine.
At our second destination, Lake Como, we will stay at the beautiful lakefront Grand Hotel Villa Serbelloni, dine at the hotel's Michelin-starred restaurant, and relax at the breathtaking pool by the lake. We will visit the stunning Villa Balbianello, a famous mansion you may recognize from movies such as the James Bond film Casino Royale and Star Wars: Episode II – Attack of the Clones. We will sail by lavish lakeside villas and picturesque towns by private motor launch, soaking up the beauty of this location from the most advantageous perspective.
Once we arrive in the fair city of Verona, we will settle into the charming boutique accommodations at the Grand Hotel des Arts in Verona's historic district. It's in this city, of course, that Shakespeare's play Romeo and Juliet is set. Our local guide will introduce us to the historic sights of Verona, including the 12th-century cathedral, the impressive Castelvecchio, and the Torri dei Lamberti with its mysterious past.
A once-in-a-lifetime experience awaits on our second evening! We have secured top-tier tickets to this year's premiere of the unmissable drama Aida at the famed Arena di Verona. Built in 30 A.D. by the Romans, the arena is known for its stunning acoustics and is one of the best-preserved ancient structures in the world.
In magical Venice, we will be staying at the palatial St. Regis, located along the picturesque Grand Canal. An excursion by private vessel will take us to three historic islands – Murano, Burano and Torcello. On Torcello, we will enjoy lunch at the world-famous Locanda Cipriani. Back in Venice, we'll enjoy a private after-hours visit to St. Mark's Basilica, followed by a spellbinding gala evening event at a historic Venetian palazzo.
For our travelers who would like to continue their journey, we are adding a special (optional) Vienna, Austria, addition to the end of the tour! We will take an overnight train to Vienna, and from June 22-26 explore Fritz's lovely hometown and getting a rare behind-the-scenes look at many of his favorite spots. We will tour some of the world's most exclusive museums, experience the Austrian countryside with private wine tastings, and enjoy a special evening at the stately Palais Coburg.
View all of the details at www.WealthWineandWander.com.
This trip will sell out quickly. In order to secure your spot, please get in touch with Maggie Stephens as soon as possible by emailing maggie@aesu.com or calling 410.366.5494, ext. 125. Or just send back your completed booking form to confirm your place on this special trip.