The Oxford Club's Austrian Wealth Retreat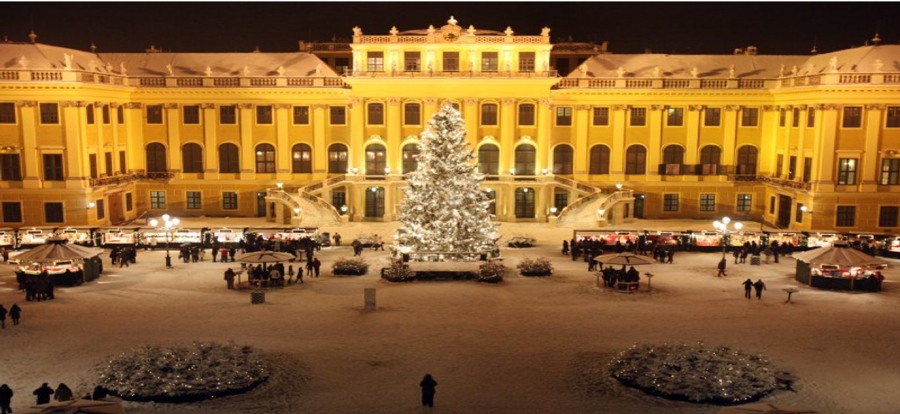 The glorious lights of Vienna at Christmas time
Dear Oxford Club Member,
Swiss author Gabrielle Alioth once wrote, "Austria was a stranger with whom you could feel at home." A country of many contrasts, Austria boasts astonishing natural beauty as well as a rich history of culture and tradition. Those who visit are bound to experience the phenomenon of Gemütlichkeit, which literally translated means "coziness," but which many Austrians interpret as a zest for life and an ability to savor the best of every day.
We cordially invite you to join the The Oxford Club on a fascinating historical tour of Austria's most charming and glamorous towns – Innsbruck, Salzburg and Vienna – during one of the most festive seasons of the year. Outstanding luxury lodging, gourmet meals, special events, chamber concerts, a farewell palace dinner and an exclusive investment seminar with Oxford Club financial experts are all hallmarks of this Austrian Wealth Retreat.
Our time in Austria will include a special one-day seminar event – an "insider's look" into recent financial developments and exciting investment opportunities. You'll also discover strategies seldom shared with those outside the global financial elite. We've gathered some of the very best experts specializing in European markets to bring you the best research out there.
You'll see the best of Austria – voted the No. 1 country in the world for quality of living a seven astonishing years in a row – and revel in four gorgeous days in Vienna.
So, please… read on. Then be sure to let us know ASAP if you're able to join us in November.
YOUR VIP TRAVEL ITINERARY 
Innsbruck in all its holiday glory
Sunday, November 25: Depart U.S.
You'll depart today on overnight flights from your home city to Innsbruck, Austria. Easy connections are available via Frankfurt, Munich or Vienna, or through a number of other cities.
Monday, November 26: Arrive in Innsbruck
This very special trip officially begins this morning when you arrive in the beautiful Alpine city of Innsbruck in western Austria, an urban center where the mountains meet the valley and the city is one with nature. We'll whisk you from the airport to your hotel for the next two nights, the five-star Grand Hotel Europa, the city's finest address with a fascinating slice of history. Originally built in 1869 in Imperial baroque style and enjoying the custom of European royalty, the hotel suffered extensive bomb damage during World War II (as it was located then near a major rail link). Only one wing of the original hotel survived: the great Baroque Hall, which is still in use.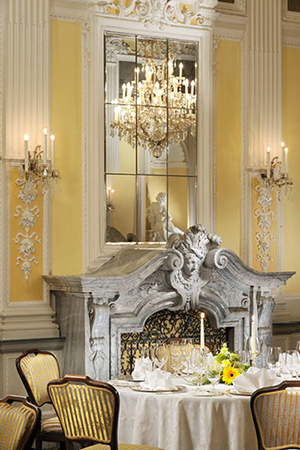 After you settle in, there's time to explore the medieval center of town, and Tyrol's capital is indeed a sight to behold. Exclusive No Deposit Bonus offers that allow you to keep your winnings! Get free bonus without deposit, rate bonuses and keep what you win! Choose the best Paypal-accepted low deposit online casino to play in. Bingo and slot games available. The jagged rock spires of the Nordkette Range are so close that within minutes it's possible to travel from the city's heart to more than 2,000 meters above sea level, to alpine pastures where cowbells chime.
You'll feel almost as if you've stepped into a different time as you stroll through the quaint crisscrossing streets of town, with stunning mountain vistas at every turn.
This evening, greet old friends and meet fellow Oxford Club travelers at our welcome cocktail reception, before heading out for dinner and an exploration of the town's renowned Christmas market. [Dinner]
Tuesday, November 27: Innsbruck
"Use every moment, dance every dance, you can't take anything with you."
It's said that the scroll found on the relief of the famous Golden Roof in Old Town bears these words. However, the writing still hasn't been deciphered, so this is mere speculation – one of the many mysteries that revolve around Innsbruck's sparkling golden landmark. The Golden Roof was a symbol for the old center of Europe and a reflection of inconsistencies in times of great change. Sumptuously decorated with 2,657 fire-gilded copper tiles, all still original, it forms the roof of an alcove balcony that the great Emperor Maximilian added to the existing "Neuhof" building around 1500.
We'll learn about the exciting history of a city that, centuries ago, was more rich, vibrant and urban than any other city in the heart of the Holy Roman Empire of the German nation and how it paved the way for the future. This was a place where guilds and estates ruled, where townsfolk, aristocrats and beggars shaped the cityscape and where lively celebrations were held by the light of flaming torches. We'll also visit the Hofkirche (Court Church), which was constructed as a mausoleum for Emperor Maximilian I. Inside we'll marvel at a series of larger-than-life bronze statues depicting ancestors, relatives and heroes.
Buckle up this afternoon for an exhilarating ride up Innsbruck's spectacular Hungerburg funicular, planned and designed by star architect Zaha Hadid, who has raised the architectural bar around the world with her design masterpieces. At the top, we'll enjoy a stunning vista across the countryside before heading to a traditional Tyrolean dinner with musical entertainment. [Breakfast, Lunch, Dinner]
Wednesday, November 28: Innsbruck * Salzburg * Vienna
An exciting day awaits when we board our first-class, high-speed train to Salzburg, a trip of less than two hours. One of Austria's most picturesque cities, Salzburg is known of course as the birthplace of Mozart, but it's also widely remembered as the gorgeous backdrop for The Sound of Music. Though our visit to Salzburg is brief, there's time to explore, shop, and enjoy a lovely lunch and chamber music concert in this City of Charms.
Salzburg, one of Europe's most photogenic cities
We're then off to Vienna, one of the world's most cosmopolitan cities, where we'll check in to the five-star Hotel Bristol. If you're looking for a taste of the ornate design style that so epitomized early 20th-century Vienna, this is the place to be. The building itself, which dates to 1892, has 130 rooms that are excessive in all the right ways: baroque and art nouveau bones, richly patterned carpeting, lacquered furniture, glinting chandeliers and brocade chairs. This luxury auberge has been the hub of Vienna's cultural and business life for more than 120 years, as politicians and the city's elite mingle in the shadow of the famed opera house across the street.
There's time to freshen up in your luxurious room before strolling downstairs to join the Club for dinner. We'll dine together on classic Viennese cuisine at the hotel's fine dining establishment, the Bristol Lounge. Thanks to the culinary achievement of Chef Gratzl, the restaurant has been rewarded with one toque by Gault Millau.
Vienna, voted one of Condé Nast Traveler's top places to live in the world
After dinner, there's time for a nightcap if you care to amble through the lively Christmas market, an age-old Viennese tradition. The forerunners of the present-day events date back to the Middle Ages, when in 1298 Albrecht I granted Vienna's citizens the privilege of holding a December Market, or Krippenmarkt. Now punch and chestnut stands draw customers with seasonal treats and stallholders get shoppers in the holiday spirit with handcrafted goods. [Breakfast, Lunch, Dinner]
Thursday, November 29: Vienna Investment Seminar
After a gourmet breakfast at the hotel, we'll have an informative (and potentially lucrative) morning seminar. Here, in one of the world's most active financial centers, we'll discuss a range of investment topics – from banking and Brexit to currency plays and investment strategies unique to the European Union – while gathering up-to-the-minute financial insight from Oxford Club financial experts.
After lunch at the hotel, get to know some of Vienna's cultural delights during our private city tour. Our knowledgeable local guide takes us behind the scenes to show us some of the city's hidden gems, including the world-famous Staatsoper, where members of the world-renowned Vienna Philharmonic are selected from its orchestra. Dating to the 19th century, the neo-Renaissance Vienna State Opera is one of the busiest opera houses in the world, producing 50 to 60 operas per year and 10 ballet productions in more than 350 performances. In this stunning complex, it is quite common to find a different opera being produced each day of the week.
Tonight offers a special treat: a visit to a classic Viennese heurigen (wine tavern) where local winemakers serve their most recent year's wines for short periods following the growing season. They are renowned for their atmosphere of gemütlichkeit (coziness) shared among patrons enjoying young wine, simple food and traditional music. We'll sample some fine Austrian wines and typical heuriger fare, such as organic sausages and cheese, homemade bread and pickles, and smoked meats and fish. Don't be surprised if some of us sing along to ballads while we celebrate our good fortune among good friends! [Breakfast, Lunch, Dinner]
Friday, November 30: Vienna * Carnuntum Town and Winery
Carnuntum Austrian Wine
After breakfast and a leisurely morning at the hotel, we'll head out of town to historic Carnuntum. Archeologists have long been excavating the rich soils of Carnuntum, once a principal strategic stronghold in the Roman Empire, for cultural remains. Equally remarkable has been the discovery of acres of fertile soil for red wines that reflect the region's unique growing conditions. The "Rubin Carnuntum" wine is produced by a small number of the area's most important vineyards. Today we'll have the chance to sample these unique grapes as we gather for a private tasting at family-owned Winery Netzl. An idyllic lunch (with wine, of course!) completes our journey to this peaceful area. Then it's time to head back to the hustle and bustle of Vienna for a free afternoon.
Tonight we'll delve further into Vienna's cultural life as we enjoy a spellbinding chamber music concert. A late dinner at a favorite local café completes our evening. [Breakfast, Lunch, Dinner]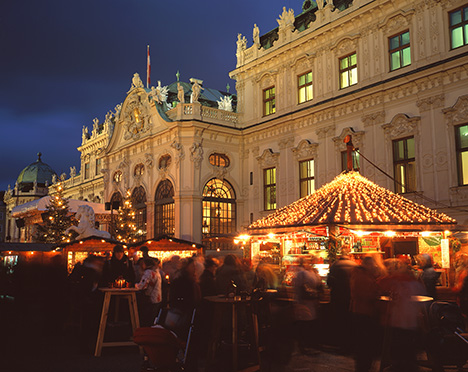 Saturday, December 1: Vienna at Leisure
Your last day in this enchanted city is designed to let you savor Vienna on your own. If you wish, there's an opportunity to make private appointments with any of our European speakers, or to join one of our local experts on a visit to some of Vienna's historic landmarks. Perhaps you'll want to finish your holiday shopping in the markets, visit that special art gallery, or just sit in a cozy sidewalk café sipping hot chocolate and watching the crowds stroll by. Whatever your pleasure, make sure you leave yourself plenty of time to get ready for an amazing night ahead.
Tonight we'll step royally into Vienna's grand and refined past. Our magical evening begins as horse-drawn carriages transport us through the city's beautiful (perhaps snowy!) streets and pull up to the doors of a grand Viennese palais. Beautiful artwork, ornate architecture, elegant interiors and extraordinary service combine for an enchanted Viennese evening. We'll have time to reflect on our experiences and say a fond farewell to our traveling companions over a gourmet candlelit dinner – truly a night to remember forever. [Breakfast, Dinner ]
Sunday, December 2: Depart Vienna
This morning, bid auf wiedersehen to the enchanting city of Vienna, then transfer to the airport for your return flights.
YOUR HOSTS IN AUSTRIA
Fritz Satran
The trip will again be hosted by Oxford Club friend and lifestyle expert Fritz Satran. Born and raised in Vienna, Fritz founded AESU Travel in 1977 on the idea of increasing global understanding through travel. Over the years, Fritz and his staff have conducted high-end tours around the world for many prestigious groups and universities, including the Johns Hopkins University Trustees, the Baltimore Opera and, of course, The Oxford Club. Driven by a belief in the idea of travel with a purpose, Fritz specializes in creating unique and flawlessly executed travel experiences.
As one Oxford Club Member and past tour participant says, "Fritz is a wealth of information on all aspects of travel, and as an Austrian living between Europe and the States, he has a unique perspective on global matters. He also happens to be great fun, and you'll enjoy sitting down for a coffee or glass of wine and discussing life with him and his team."
Steve McDonald
Our group will also be joined by Oxford Club Bond Strategist Steve McDonald. Steve is Editor of Oxford Bond Advantage and Contributing Editor to The Oxford Income Letter and Wealthy Retirement. Steve is also the Host of Market Wake-Up Call for the Members-only newsletter The Oxford Insight. Every Sunday, Steve interviews industry experts to bring Members breaking news and exciting market commentary.
Every week for Wealthy Retirement, Steve puts together a Two-Minute Retirement Solution column and a "Slap in the Face" Award video. In his Two-Minute Retirement Solution, Steve explores proven strategies for the retirement investor. Quite often, Steve's commentary goes against the grain of mainstream financial media. In the popular "Slap in the Face" Award series, Steve doles out no-holds-barred criticism to anyone (and anything) getting in the way of your wealthy retirement.
Steve has worked as a professional broker and has been an active trader of bonds for more than two decades, specializing in ultra-short-maturity corporate bonds. Before entering the investment industry, Steve was a naval aviator, flying fixed- and rotary-winged aircraft, and also served as a surface warfare officer.
Nicholas Vardy
And finally, joining us for our Vienna seminar day will be the latest addition to the Oxford Club, ETF Strategist Nicholas Vardy. Based in London, Nicholas is a widely recognized expert on this exploding asset class and an accomplished investment guru with several successful newsletters to his name.
Nicholas has been a regular commentator on CNN International and Fox Business Network. He has also been cited in The Wall Street Journal, Newsweek, Fox Business News, CBS MarketWatch, Yahoo Finance and MSN Money Central.
Nicholas holds a bachelor's degree from Stanford University and a J.D. from Harvard Law School. He is also an associate of the Adam Smith Institute in London and the Chatham House think tank.
Keep an eye out for the launch of Nicholas' new ETF trading service in the next few weeks.
HOW TO SECURE YOUR SPOT IN THIS AUSTRIAN WEALTH RETREAT
The Oxford Club is delighted to offer its members this once-in-a-lifetime opportunity to enjoy the splendors of Europe at a very special time of year. With all the hallmarks that distinguish an Oxford Club investment tour – intimate group size, elegant hotels, gourmet meals and hand-picked speakers who help unravel the secrets of wealth protection and global investing – this Austrian Wealth Retreat will be one of unparalleled beauty, culture and education.
As you can imagine, this privileged visit to Innsbruck, Salzburg and Vienna will appeal to many Members, so we urge you to secure your spot ASAP. To reserve a place, please call Karoline Bowman at AESU Travel at 800.638.7640, ext. 113, or 410.366.5494, ext. 113. You can also email her at karoline@aesu.com. She is happy to assist with your international flights as well.
The cost of the tour is $4,950 per person, with a $200 discount for Chairman's Circle Members. The single room supplement is $1,200. Included are two nights at the five-star Grand Hotel Europa in Innsbruck; four nights at the five-star Hotel Bristol in Vienna; daily breakfast; lunch and dinner, including beverages (except lunch on December 1); sightseeing in each location as described in the itinerary; cocktail receptions and special events in both cities; roundtrip airport transfers; and a half-day investment seminar led by The Oxford Club's hand-picked experts.
We look forward to welcoming you on this special Austrian Wealth Retreat!
Sincerely,
Steven King
Event Director, The Oxford Club
P.S. To maintain the exclusive nature of this event, space is limited. In fact, it's limited to just 40 travelers. That's why I urge you to register as soon as possible. Simply contact Karoline Bowman by phone at 410.366.5494 or 800.638.7640, ext. 113, or by email at Karoline@aesu.com to reserve your spot today.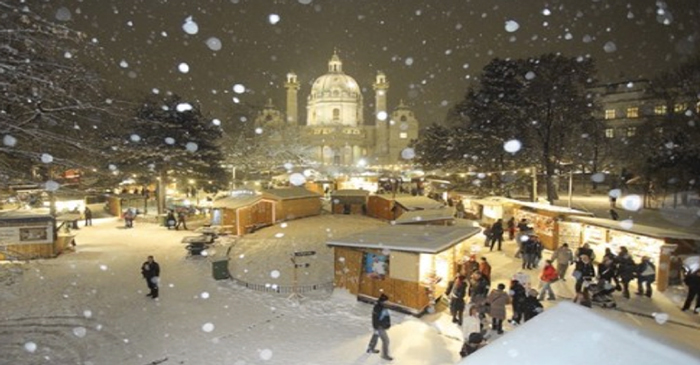 Holiday Season in Vienna