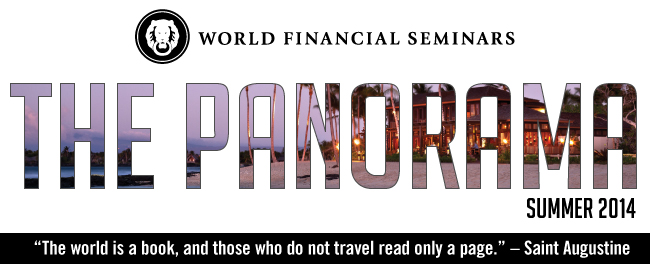 Aloha!
Welcome to the second issue of World Financial Seminars' The Panorama – where you can find the details on all things event related – from reflections on our most recent trips… to details on our exciting upcoming events… and everything in between.
In this issue, we are especially happy to introduce you to our newest travel benefit – the Oxford Voyager Club.
You see, over the past few years we've come to recognize many familiar faces at each of our events. And we wanted to find a way to reward those who have shown our programs and events so much loyalty… those who share our passion for camaraderie in worldwide travel and our love of the markets.

We're also excited to share the details of our 2015 Calendar of Events… to show you how you can get access to our 2014 Millionaire Master Plan… to give you some insights from our recent tour to Greece and Turkey… and to introduce you to the newest member of our World Financial Seminars family, Page Carpenter.
We hope you'll enjoy this newest issue of The Panorama and we look forward to seeing you soon at one of our events!
Sincerely,
Heather, Steven and Sarah
---
The Oxford Voyager Club:
Our Newest and Most Exclusive Benefit
"It is good to have an end to journey toward; but it is the journey that matters, in the end." – Ernest Hemingway
Our mission here at World Financial Seminars every year is to provide you – and all of our Members – with several opportunities to travel the right way, with the right people.
We are truly grateful for the loyalty that many of you have shown our events year after year.
And that's why we are so excited today to announce our newest and most exclusive travel privilege – the Oxford Voyager Club.
This is the only program The Oxford Club offers where membership cannot be purchased and is specifically designed to recognize and reward our most loyal travelers.
All you have to do is attend just one of our events – a conference, Private Wealth Seminar, cruise or tour – and you will automatically be granted membership in the Oxford Voyager Club. There are no fees – just benefits…
Not only does the Oxford Voyager Club distinguish those who have traveled with us, it also provides you with new opportunities to take your travel with us to the next level. That's because every Voyager Club Retreat we design will help connect you to what the ancients called "the good life."
You will gain special access to our most elite annual events, beginning with The Oxford Voyager Club's Inaugural Beyond Wealth Retreat at The Four Seasons Resort Hualālai at Historic Ka'ūpÅ«lehu in Kailua-Kona, Hawaii, from February 7-10, 2015.
Among its many accolades, this property has been rated the No. 1 resort in Hawaii by Travel and Leisure magazine since 2010. There's no doubt in our minds that this pristine resort is the perfect venue for our maiden Voyager Retreat, where you will discover what it truly means to live "beyond wealth."
Of course, you will also enjoy time with our experts – including Alexander Green, Marc Lichtenfeld, Matthew Carr and Sean Brodrick. Together, they'll reveal their roadmap for building what they call an "elegant portfolio."
You see, in science and mathematics, an elegant solution is one that produces a desired effect with the smallest or simplest effort…
And they believe that, when applied to investing, this principle could help you consistently beat the markets and achieve lower-than-market risks.
This is the first Retreat we have ever hosted and we've gone above and beyond to make sure your experience with us is unforgettable.
As it's our most intimate event ever, we've limited attendance to only 50 Members… extended our experts' in-depth presentations to a full hour… and arranged for you to enjoy exclusive events with our all-star Editors, including the opportunity to dine with them at your table and get to know each other better.
We've even prepared a special private tour for our Members that ensures they have the chance to get out and explore Hawaii and its abundant natural beauty.
Why are we calling this a Beyond Wealth Retreat?
We know that there's more to enjoying life than simply achieving financial wealth.
Living beyond wealth is all about gaining freedom…
Being able to follow your dreams and escape the daily grind… to enjoy life to the fullest, free from stress and worry… and so much more.
We want you to keep that in mind and feel that when you join us for this one-of-a-kind experience!
---
Now Available: Our 2015 Calendar of Events
Grab a pen and get ready to mark your calendars…
Here at World Financial Seminars, we've been busy creating our 2015 Calendar of Events…
And let me tell you, there's a lot to look forward to.
It all kicks off with The Oxford Voyager Club's Inaugural Beyond Wealth Retreat at the Four Seasons Resort Hualālai at Historic Ka'Å«pÅ«lehu in Kailua-Kona, Hawaii, from February 7-10, 2015.
Here's a peek at what comes after that:
The 17th Annual Investment U Conference – in cosmopolitan St. Petersburg, Florida, set against the beautiful waters of Tampa Bay…
Two Private Wealth Seminars – one in breathtaking Beaver Creek, Colorado, just steps away from the majestic Rocky Mountains, and the other in stunning Southampton, Bermuda, surrounded by miles of pink sand beaches…
The Oxford Club's Natural Resource Expedition and South Africa Safari – with visits to the business centers of Capetown and Johannesburg and private safaris at the world-famous Sabi Sabi Game Reserve…
The Chairman's Circle Wealth Cruise – our first event for 2016 aboard the luxurious, six-star Crystal Symphony with stops in Colón, Panama … Cartagena, Colombia… Santa Marta, Colombia… Oranjestad, Aruba… St. Barts, French West Indies… Turks and Caicos Islands… and Miami, Florida.
We hope you're as excited as we are about these upcoming conferences, seminars, retreats, tours and cruises!
For more information, and to view the full 2015 Calendar of Events, simply click herenow.
And remember: When you plan for something to look forward to, you bring happiness into your life… even well before the event actually takes place.
---
The Oxford Club's Financial Discovery Tour to Greece and Turkey – Afterword
This past Monday, Executive Director Julia Guth, Chief Investment Strategist Alexander Green and Club Chairman James Boxley Cooke returned home from The Oxford Club's exhilarating Financial Discovery Tour to Greece and Turkey.
Alongside a small group of esteemed Club Members, they had the opportunity to meet with several experts on art, collectibles and business in the European region. That includes:
A senior director of Sotheby's from Hamburg, whose family is a member of one of the most prominent royal families in Germany…
Several highly successful, experienced collectors of European antiques, stamps and rare coins…
One of the leading attorneys from Istanbul responsible for handling many of the first and largest privatization and foreign investment deals in the country…
A tax expert who has decades of experience providing sophisticated tax and business planning, including changes in offshore reporting requirements for U.S. investors allocating assets offshore.
Our Members also had the chance to hear Alex reveal his best research and recommendations for investing in these countries.
According to Julia, the sun god Helios shined his light on the group for the entire tour. They were able to delight in 12 straight days of perfect weather and share many once-in-a-lifetime experiences. Attendees enjoyed a private guided tour of the Acropolis Museum and a stroll around the 5,000-year-old Parthenon… a first-class welcome reception on one of the top rooftop bars in the world at the historic Hotel Grande Bretagne… an authentic "Zorba" dinner with moussaka, baklava, spanakopita and other national dishes at the gorgeous seaside Taverna at the lively new Sirene Blue Resort – owned by a charismatic 30-year-old heir to a Greek grocery store chain… the list goes on.
Without a doubt, those who participated in this tour made lifelong friends with experienced travelers who share the Club's sense of adventure and passion for learning about overseas markets firsthand.
We will be featuring a detailed report with highlights from this tour on the "Events" page of The Oxford Club website in the coming weeks. We hope you'll enjoy it!
---
Postcards from Greece and Turkey
---
The Millionaire Master Plan 2014:
10 Easy Trades and More That Could Help You Add a Potential $1 Million to Your Portfolio
This past March, we hosted our biggest investment event ever – our 16th Annual Investment U Conference – in picturesque Carlsbad, California.
There, almost 400 of our Members had the opportunity to hear the top investment ideas for 2014 and beyond from some of the world's foremost investment experts.
In total, there were over 70 recommendations given!
If you weren't able to make it, don't worry…
While each of these experts was revealing their top plays, our studio team was busy tracking every word using high-definition cameras…
And The Oxford Club's Roving Reporter David Bauman was focused on keeping a live journal to highlight the most important moments.
The end result is our Millionaire Master Plan: an interactive and all-inclusive investing road map that will help you secure your greatest returns, reduce your risk and lead to a wealthier life in 2014.
It includes 46 video seminars full of exclusive recommendations, strategies and ideas… 12 bonus recordings featuring additional investment recommendations and market insights… live journal archives on the key ideas… and much more.
To make it even better, we've also added a special report from The Oxford Club's Research Team. It's called "The Millionaire Master Plan's Top 10 Plays" and offers a concise, easy-to-follow list of the 10 best investment recommendations for booking gains starting today.
Today, we'd like to offer our Panorama readers a special discount of 25% off the retail price of our Millionaire Master Plan 2014.
To get started now, simply click here.
Meet Page Carpenter:
The Oxford Voyager Club Concierge and Chairman's Circle Liaison
To celebrate the launch of the Oxford Voyager Club, we wanted to take a moment and introduce you to the newest member of our World Financial Seminars team, Page Carpenter.
Below, you will find a wonderful interview from Event Director Steven King with Page.
She's very excited to get to know you and we hope you will enjoy getting to know her, too!
Steven: Hi Page, welcome to The Oxford Club!
Page: Thank you! I am excited to be here!
Steven: So, can you tell us a little bit about your new role as the Oxford Voyager Club Concierge?
Page: Of course. As you know, the Oxford Voyager Club is our newest travel benefit for Members. Essentially, it's a loyalty program we designed to reward those who have travelled with us in the past. And it opens the doors to our most elite annual events.
As the Oxford Voyager Club Concierge, I will be the primary point of contact for our Oxford Voyager Club Members. I will be available to answer absolutely any questions our Members have and assist them with anything and everything related to their Oxford Voyager Club experience.
Steven: That sounds great. The Oxford Club's Executive Director Julia Guth also tells me that you will also be serving as the Chairman's Circle Liaison. Can you tell us more about that?
Page: Sure. In addition to serving as the Oxford Voyager Club Concierge, I have also taken over for Jeannette Di Louie as the Chairman's Circle Liaison. Over the past two years, Jeannette has done a wonderful job in this position and I hope to have just as much success. I wish her the best of luck as she transitions into her new position with our Research Team!
As the primary contact for our Chairman's Circle Members, I will be available to answer any questions they have regarding their membership benefits, premium research services or other opportunities within the Club. And in order to keep them up to speed on everything that's going on in The Chairman's Circle, I will continue to send out our Chairman's Circle Weekly Briefing.
My main goal is to enrich the experiences our Members have with us and to make it as easy as possible for them to take advantage of all The Oxford Club has to offer.
Steven: That's fantastic. I'm sure our Members will appreciate having you as an additional resource! I'm interested to know more about your background and what brought you to The Oxford Club. Could you share that with us?
Page: Absolutely. I was born and raised in Baltimore County, Maryland. I graduated from a small liberal arts college in Tennessee, Sewanee: The University of the South, with a degree in American studies. While at Sewanee, I was a member of the women's varsity lacrosse team.
After graduation, I moved to Washington, D.C., where I worked in the wholesale business division of a tote bag company called SCOUT Bags, headquartered in Georgetown.
This past January, I decided to move back to Baltimore to be closer to my family. I began working for a small event planning company as an assistant event coordinator and also coached high school lacrosse at the St. Paul's School for Girls.
It wasn't long after I moved back to Baltimore, that I also decided to pursue a career with Agora Publishing Company – specifically within The Oxford Club. I became familiar with Agora when I was studying at Sewanee. You see, I was an art history minor so I took a lot of courses in architecture. One of the courses was about the history of Baltimore architecture. One building we studied and toured was the Agora headquarters in the historic Mount Vernon neighborhood of Baltimore. And the more I learned about the building – and the company – the more interested I became. Not only was I impressed by the company's mission to preserve historical architecture in Baltimore, but also by its reputation for being a great place to work and its involvement in the community.
In my short time with The Oxford Club I can already see how this company has earned its wonderful reputation. I'm so happy to be here.
Steven: And we're happy to have you! Thank you so much for taking the time to talk with us and we wish you the best of luck in your new positions!